Hanky Panky Introduces Lindsi Lane x Hanky Panky ~ First Ever Influencer Collection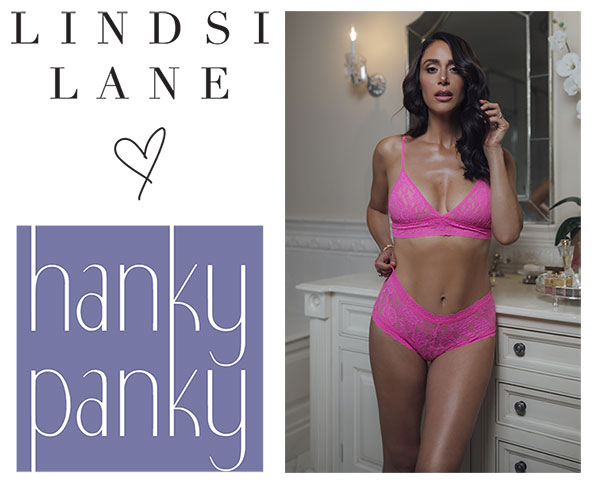 Introducing Lindsi Lane x Hanky Panky, Hanky Panky's first ever influencer collaboration! Combining Lindsi's distinctively bright, girly style, and glamorous NYC lifestyle with Hanky Panky's signature fit, quality and comfort, the collections includes an assortment of Hanky Panky favorites and many So Lindsi styles developed just for this collection.
Lindsi Lane is the writer/personality behind the 4-year-old lifestyle site, lindsilane.com, & coveted Instagram account, @lindsilanestyle. Before building a social media-infused brand based on her point of view – a blend of humor, style, & female empowerment – Lindsi's fashion career began at Gucci & Michael Kors. She then segued into styling at Elle Magazine before becoming the youngest Personal Shopper in the history of Barney's New York & By Appointment Stylist at Ford Artists, a role the agency created for her. Lindsi's content now includes beauty, wellness, fitness, travel, décor, relationships, & food. Charming, witty, & media trained, she has appeared as a lifestyle expert on national morning shows & been featured in the New York Times, Refinery29, Fashionista, E!, People, & Brides. She has collaborated with leading global brands, from Vogue to Louis Vuitton & Dyson to Coty. She often works with women-centric non-profits in her downtime. Lindsi lives in Manhattan with her husband, Aaron and new baby Tallin.