#StayAtHome Family Style ~ Bedhead Pajamas
By HOLLY JACKSON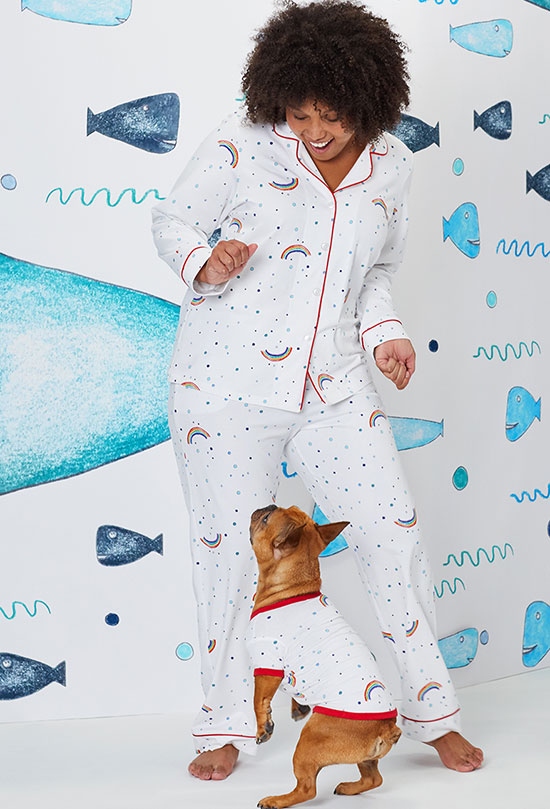 We're all adjusting to this strange new world we live in for the foreseeable future. Life has blended into one long blur of working from home, wearing stretchy pants and worrying about whether we can find the groceries we need at the store. We're all wondering what happens when we run out of toilet paper. It's a terrifying new world out there. Inside, it's a family affair and Bedhead Pajamas are a perfect #StayatHome wardrobe solution.
I've been a big personal fan of Bedhead Pajamas for years and have purchased many pairs from them. Their plus-size collection is a treasure trove of high quality pajamas that are at once whimsical and sophisticated. Many of them also use organically grown cotton. Instead of making some prints for only some genders or size ranges Bedhead Pajamas makes the same prints for everyone, including kids and the family dog.
Their Pot of Gold print features mix of rainbows and polka dots that feels like spring itself. It's made from Bedhead Pajamas' classic high quality stretch jersey and features classic menswear inspired details that keep the pajamas looking crisp and classic. I love the literal rainbow of colors that these pajamas use and how unrelentingly cheerful they are. That's something that we could all use these days!
The School of Fish print features a more abstract take on a fun fish print that has the feeling of a mosaic from a distance. The various shades of blues are beautiful without feeling too out there and ensures that this print is appealing to all ages. It's almost like a mosaic or a tile print with a kitschy feel, so it appears adult and child-like at the same time.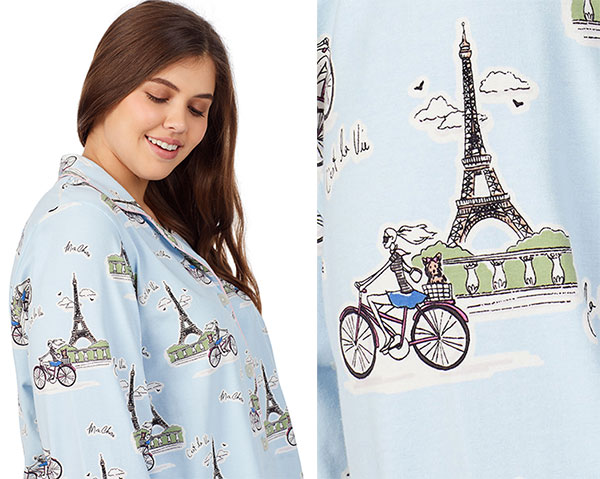 The C'est La Vie print is made from the same stretch jersey and features a Parisian inspired print complete with French phrases, bicycles, and the Eiffel Tower. It's fun and feminine and conjures up images of spring in a beautiful city – and might possibly inspire some travel goals once all of us can fly again.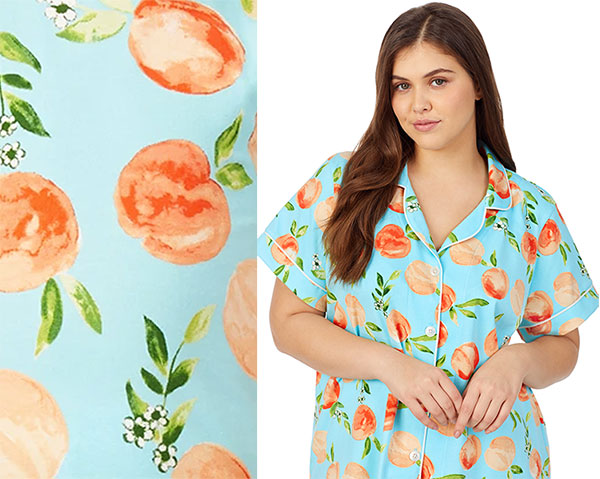 The Peach Blossom print is a gorgeous realistic peach print that uses a range of aqua blue and orange shades to make a strong impression. I love how this print channels summer and warmer weather in an unexpected way! It also has me hoping for peach season to get here soon so I can start making peach melba cakes and peach salads.
We're all going to be switching to cute pajamas as daywear for a while so I suspect lots of customers will love the latest Bedhead Pajama prints. They're cheerful, wearable and perfect for the current state that we're all in. I love that Bedhead doesn't dilute their designs for larger sizes. They feature the same fabrics and details up to a size 26, which is quietly revolutionary. We might also remember that Mother's Day is around the bend (hopefully). These sets seem even more on point for this year's probable in house celebration.