Anita Care´s Bestselling Post Mastectomy Bras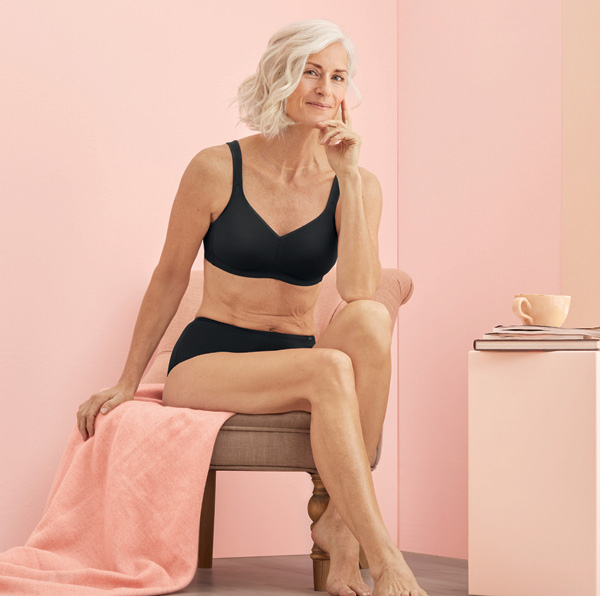 Anita has been making lingerie since 1886 and they've continually kept pace with creating the most fashionable, supportive and on-trend features since their inception. Their dedication to classic high-quality bras is combined with the use of very special fabrics, detailing and technology. You see this in their fabulous and popular sports bras, basics, fashion lingerie and swimwear, but also in the way they have embraced the post-mastectomy lingerie customer with their Anita Care collections. These types of styles take special precision to design and fit which is vitally important to the customers who wear them. Anita's commitment to quality lingerie for women at all stages of life is noteworthy and meaningful.
The latest collection of post-mastectomy bras from Anita Care showcases both their design strengths and their dedication to quality. It's a combination of fan favorites in new fashion colors plus new releases that will help customers expand their lingerie collections.
The Tonya Bra is Anita Care's bestselling post-mastectomy bra, but until now has only been available in basic colors. They've recently released it in Cherry to give customers a more fun, vibrant color option! The well-loved, wire-free Tonya uses moulded foam that was designed uniquely for Anita. Silky fabrics and flat edging ensures that this bra is incredibly comfortable on. Available sizes are AA-D in band sizes 32-44, E in 32-40 and F in 32-38.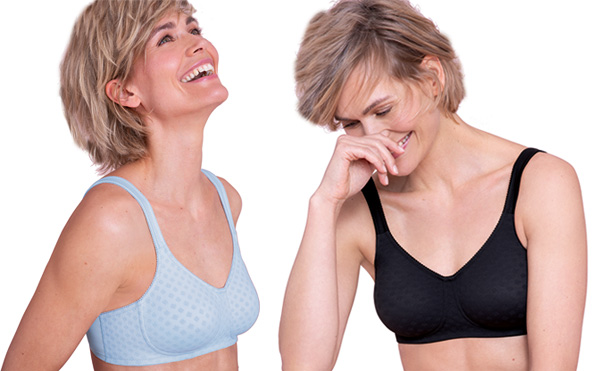 Anita Care's Lisa Mastectomy Bra has always been offered in a larger color palette but they've gone ahead and added a gorgeous Light Blue option along with classic Black. This jacquard stretch fabric gives this bra a chic look and feels great against sensitive skin. The wire-free cups are double layered and seamlessly formed for serious comfort with no side seams in the back section. Black will be available in December 2020 and Light Blue from March 2021. Current colors include White, Champagne, Anthracite, Soft Rose, Nougat & Maritime Blue.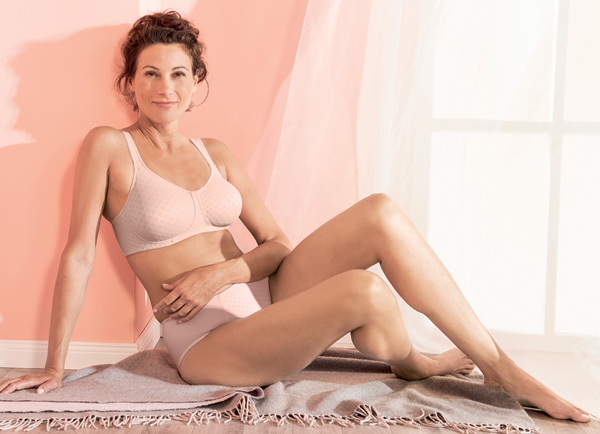 The Lisa size range includes cup sizes AA-B in band sizes 34-38, C in band sizes 34-42 and D in 34-40.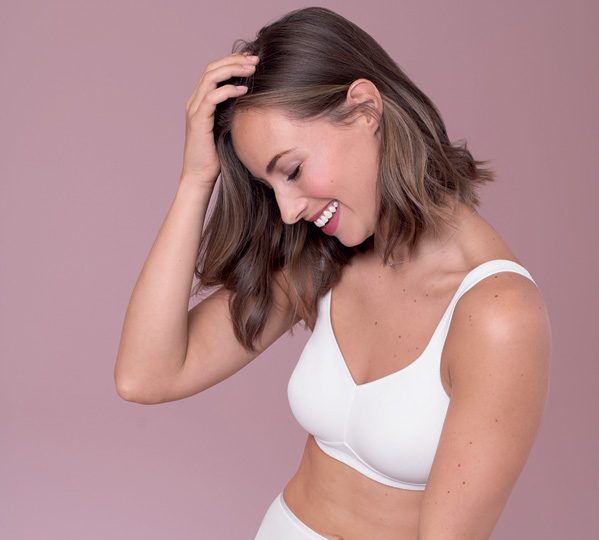 Hanni is a newer pocketed bra option available in three basic colors: White, Black, and Desert. This perfect t-shirt bra features a classic design and super comfortable microfiber fabric. The breast form pockets are made of light tulle and the straps have extra padding for comfort and a gorgeous silhouette!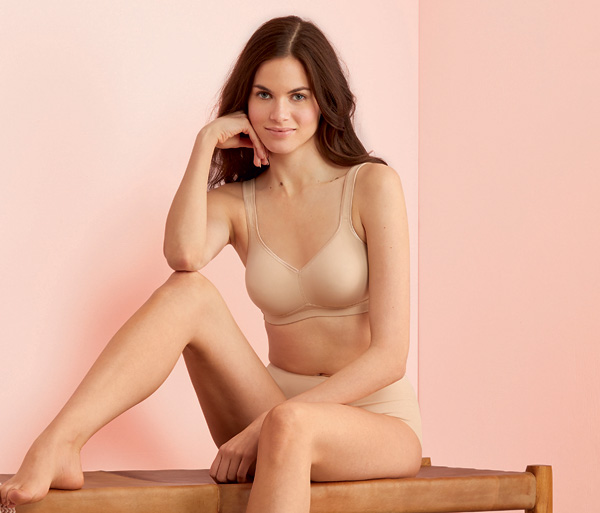 Hanni is available in sizes A – E and band sizes 32 – 42.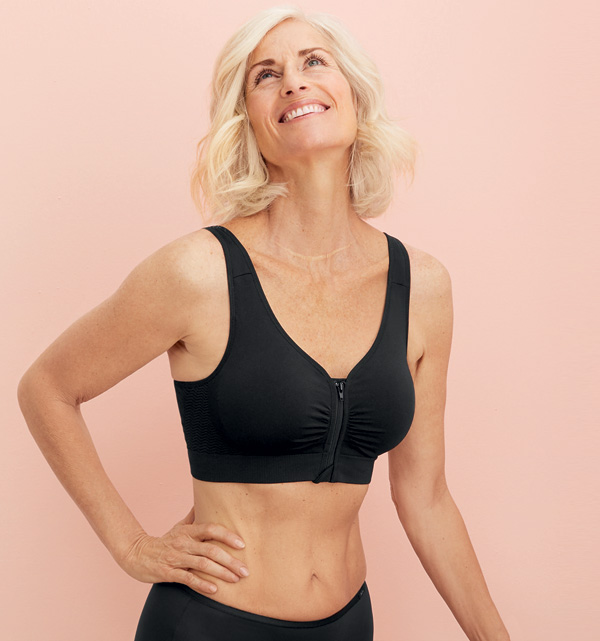 Zip-front Lynn gives customers a sportier bra option that contains all of the same great features as the rest of Antia Care's collections. This pocketed bra features a full-length front zipper as well as a hook-and-eye closure. The soft and stretchy material provides both comfort and gentle compression. Removable and double-layered foam cups conceal, support and create a natural silhouette. Spring/Summer 2021 will see the new Lotus color added and a new XXL size so more mastectomy customers can try this fabulous bra.
Ulta soft Lotta is another seamless, pocketed mastectomy bra that features movable and double-layered foam cups. Wide and soft straps plus no wires make this bra particularly comfortable to wear on a daily basis.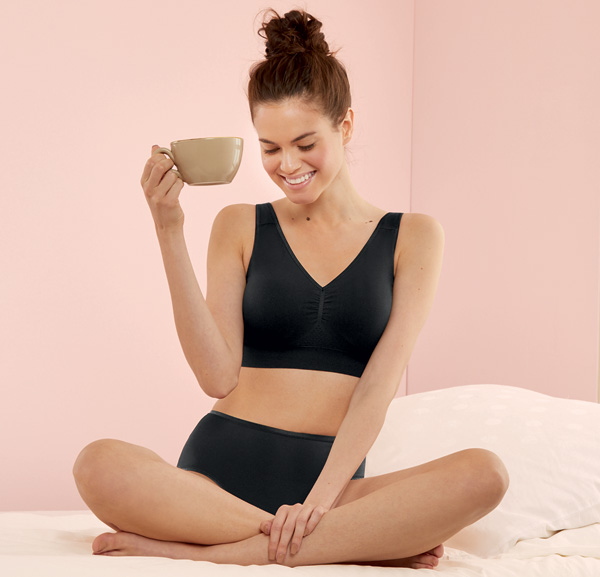 Lotta will also see the XXL size added soon!
ANITA's constant commitment to mastectomy and post-mastectomy consumers is notable and laudable. Their legacy of quality assures customers that these bras will always be there for them and will provide the support that they need.