Emma Harris' Tiffany Collection in New Dusky Pink ~ A Review by The Lingerie Raven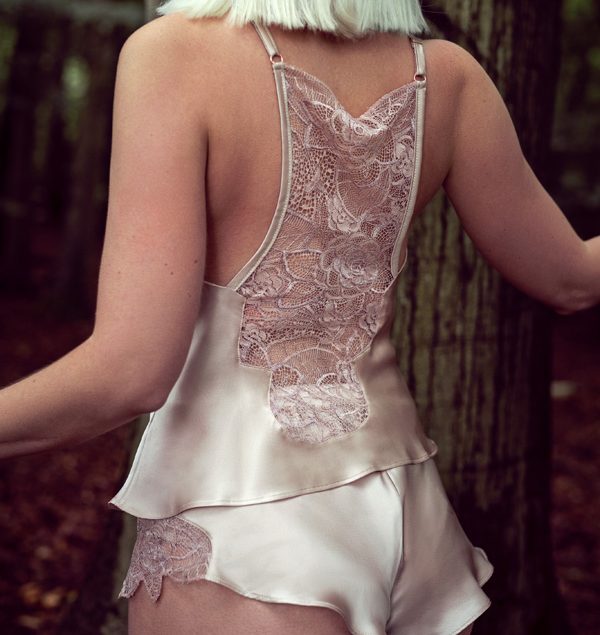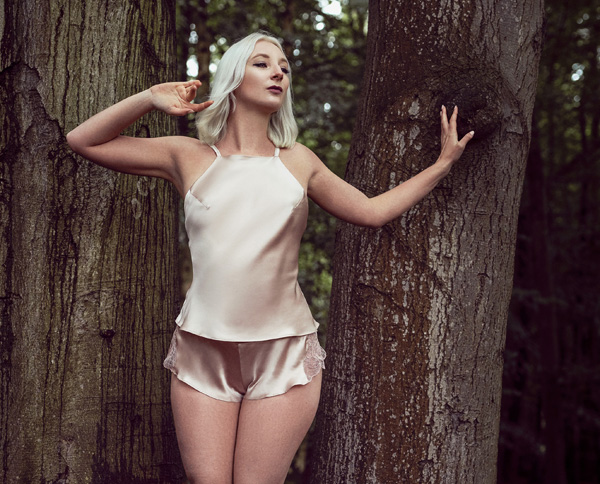 As part of her focus on continually offering new colourways in each of her classic bestselling designs, Emma Harris' Tiffany collection has recently been reinvented in a gorgeous new dusky pink colourway.
And who better to call upon to review and indeed model the range than long standing Emma Harris fan and all-round lingerie afficionado the Lingerie Raven?
The Lingerie Raven (aka Cassie Rae) is a British based lingerie enthusiast and model. We are delighted to share her stunning images of the new Tiffany colourway and an excerpt of her review of the collection here…
'Emma Harris remains a favourite lingerie brand of mine in a long-standing fashion so when Emma Harris Lingerie asked me to review the new colourway of their Tiffany style, I was both humbled and excited!
Emma Harris is a rare independent brand that employs a small and intimate team of expert seamstresses in an atelier of which is inspiring and wonderful to behold. They pride themselves on high quality luxury lingerie with quaint and subtle inspirations that are sewn into every garment making them special heirloom pieces as opposed to just another piece in your lingerie wardrobe.
Tiffany currently exists in champagne and classic black and I am humbled to introduce Tiffany in dusky pink.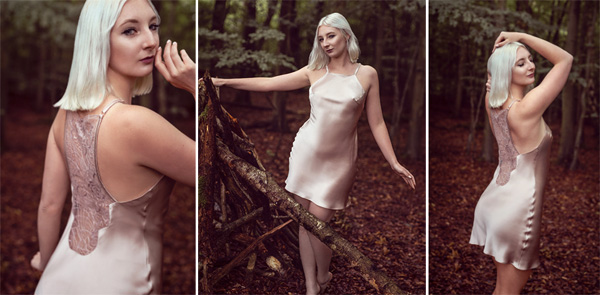 Tiffany is a playful and elegant style exploring the roaring 20s and 30s which reflects the uninhibited woman combined with opulence and extravagance. Tiffany is adorned in beautiful leavers lace and crafted with figure hugging yet flowing silhouettes! Tiffany reminds me of the quote "She was Dazzling – alight; it was agony to comprehend her beauty in a glance".
Tiffany is cut on the bias which means the garments, whilst figure hugging, are softer, more fluid and supple…incredibly lightweight and very much faerie. As soon as I saw the collection colourway I could envision the rich scents of fresh rain, blossoming spring flowers and magic.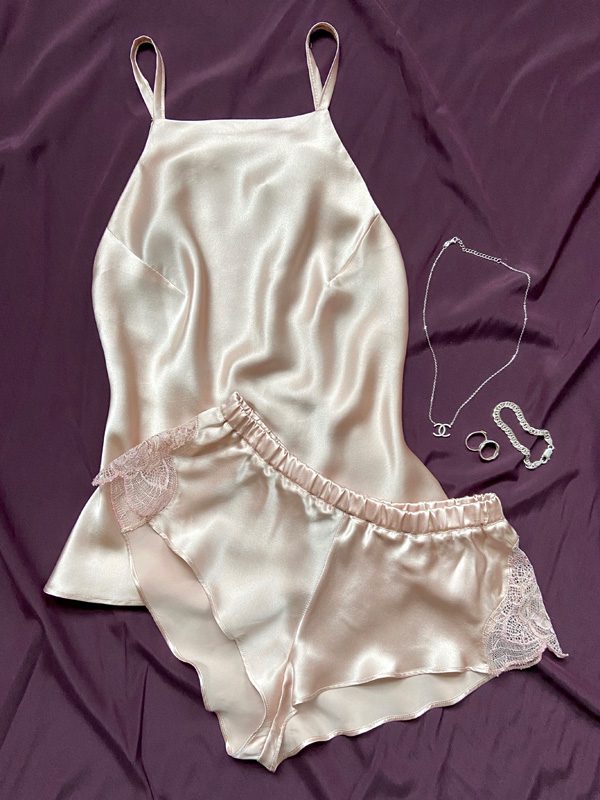 There is something special about this colourway although I do have a penchant for pink hues in lingerie as I think it is one of few colours which match most types of people.  Much of what qualifies as real magic is simply desire in action so for me, dusky pink is magic.
If you look at the collection and listen to Sulur by Petra Birgisdottir, you can almost feel it.
The construction of Tiffany is, like Emma Harris aims to be overall, to the highest of standards. French seams, pin hems and beautiful topstitching are used throughout the range and allow the stunning French leavers lace to be the centre of the beautiful bewitchment.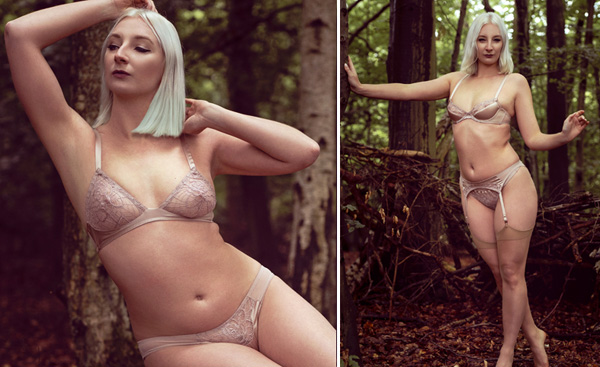 The use of topstitching is both functional and decorative and adds character to the design in a very personal way. I enjoy the unique way this is incorporated alongside the lace placing in different styles across each piece from the slip cut on the short to the unusual back design on the bra.
The use of the French seam, in my limited sewing knowledge, really defines the pieces in that it allows for the lightweight clean finish and is ideal for the light fabric of the silk satin which allows dynamism in the fabrics with your own body movements.
Emma Harris sizes range from XS (UK 6-8) to XL (UK 14-16) but take custom orders for any size with consultation therefore Tiffany is available to anyone who dare take fancy.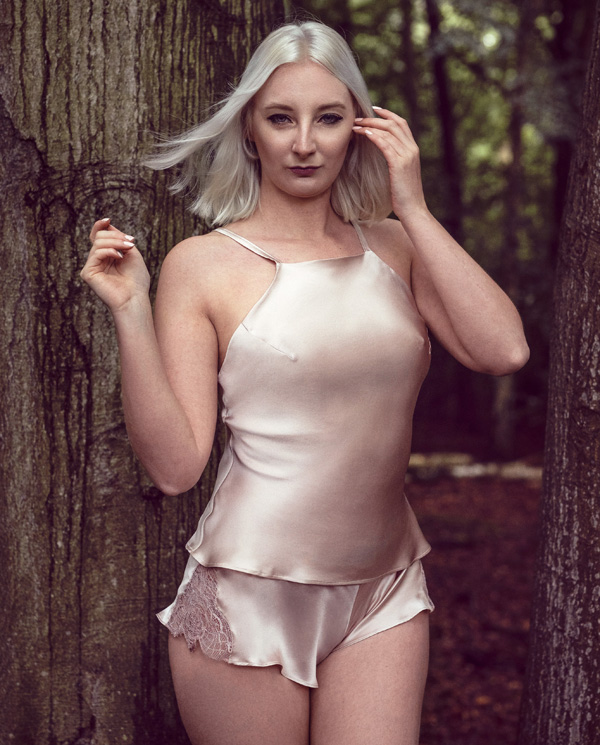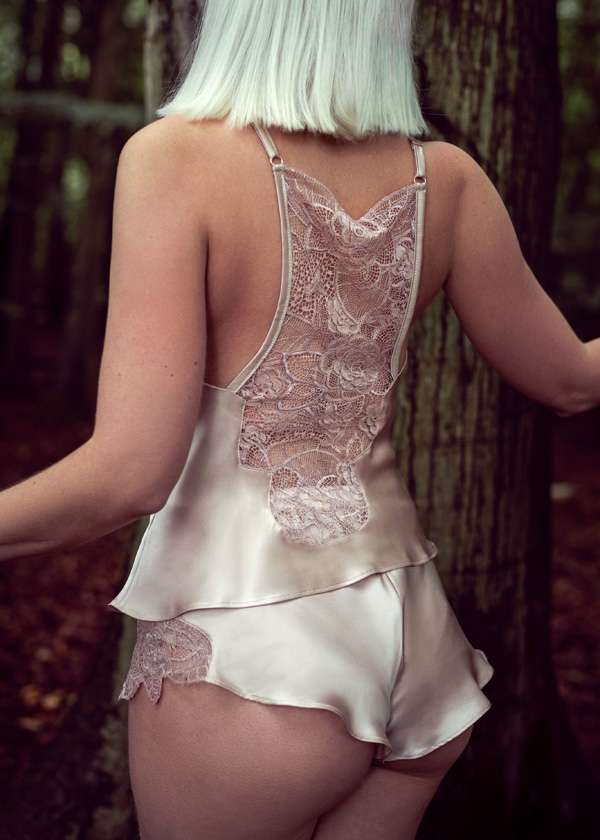 The styles range between £180.00 to £355.00 for a full set. Having purchased from Emma Harris myself, I have no reservations over their pricing especially as it is supporting a team of seamstresses, along with Claire Emma herself, in hand sewing everything with tenacity and joy let alone the owning final  lovingly made product.
I am really pleased that Emma Harris has introduced dusky pink to the Tiffany range as it is wonderfully complimentary, especially to the existing champagne colourway and I really hope that it inspires some magic in you like it has me."
"All good work has magic in it, and addresses the mind in a subtle way."
See the collection at Emmaharris.com – Tiffany