Curvy Sports Bras that Go Above and Beyond
By HOLLY JACKSON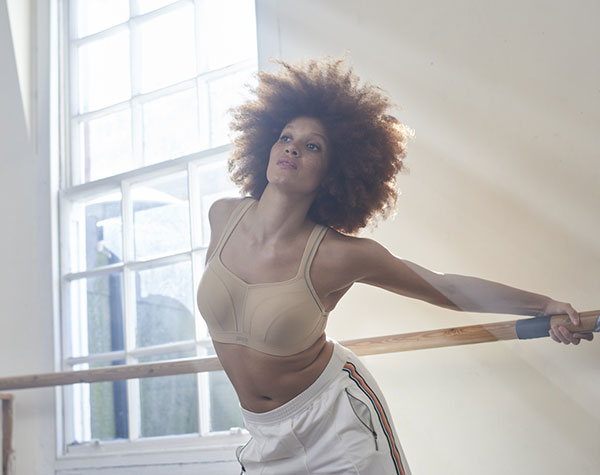 Panache
A new year always represents a fresh start, but none more so than 2021. 2020 has been such a struggle for us all that everyone seems thrilled to have a chance to start again soon! Traditionally people start a new exercise routine in January but some of us have been keeping ourselves sane with exercise this entire year. I'm one of them, which has given me lots of opportunities to explore the curvy sports bra market and really test what is out there. As a result, this article focuses on sports bras in the D – K cup range and the 30 to 46 band size range.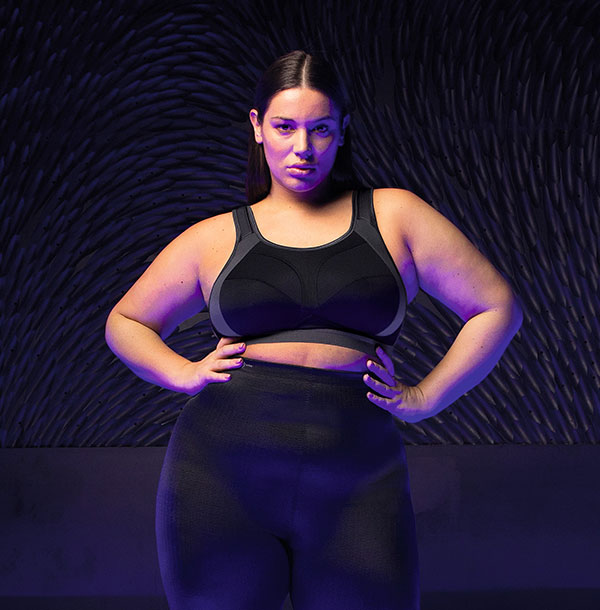 Anita Extreme Control Plus
The curvy sports bra market has become really stellar over the past few years. Nowhere is this more evident than in the development of even better wireless sports bras for larger cup sizes. While previously customers had to find an underwired sports bra for high impact workouts, now they can get equally great support without the wires. I'm a personal fan of Anita's Extreme Control Plus Sports Bra which offers superior wireless support from 30 – 48 band sizes and F – K cup size. This five-part cup design really keeps everything in place and the quick drying seamless construction makes it easy to wash and air-dry overnight. I hadn't tried the Anita brand before (I didn't think it would fit) and can see why everyone loves them, including Ellen and my very own mother! I have also become a big fan of their Massage Sports Tights which have changed my workout routine for the better. The interior of the tights has a high-tech fabric which really does support your muscle and help you get more out of your workouts when you wear them.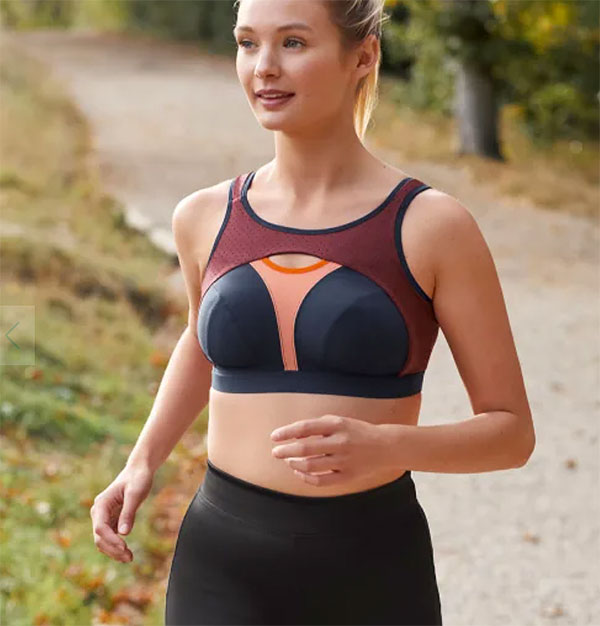 Bravissimo Orbit
Another great wireless option is the Orbit Sports Bra by Bravissimo. I'm including it here because, recently taken by its high fashion design, I ordered one on-line. It's truly impressive support and bounce control are awesome. Sizes run from 28 to 38 and cup sizes D to J, ensuring that it fits almost any curvy customer.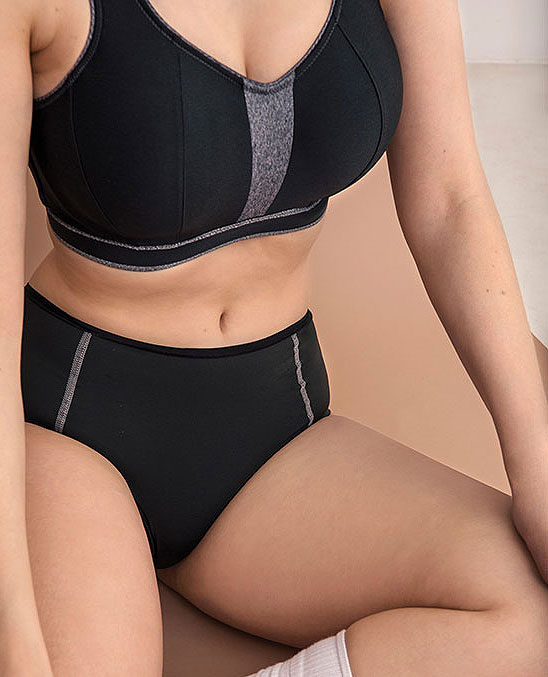 Prima Donna Sweater
The Sweater Sports Bra by Prima Donna adds a luxury option to this part of the market which is sorely needed. The breathable jersey fabric is designed to look like a sweater and the bra is made from the highest quality materials. Cup sizes range from C to H and band sizes run from 32 to 42. Ellen is a big fan of this one for horseback riding!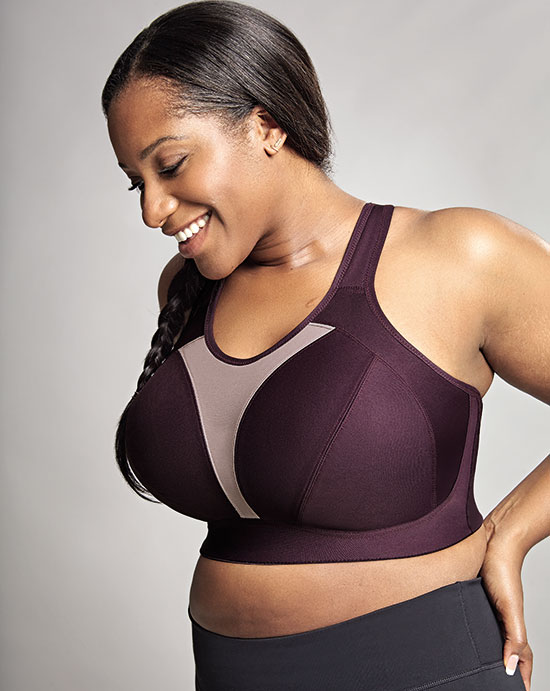 Royce Aerocool
Royce Lingerie specializes in high quality wire free bras, so it's no surprise that their sports bras are great as well. Their latest launch, Aerocool, provides support without wires along with a sleek new look. Their classic Impact Free bra has had a following for years and is known for being exceptionally comfortable. Both bras provide fuller coverage and exceptional support for larger cup sizes up to a K cup. While the Impact Free comes in classic black, the Aerocool has a fashionable feel to it.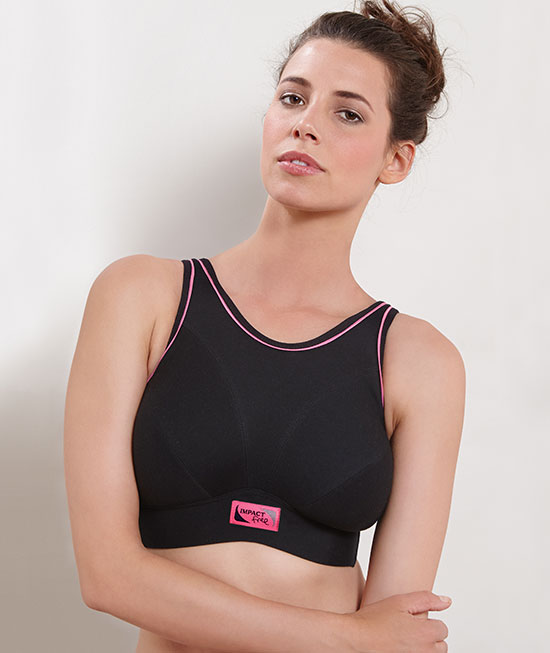 Royce Impact Free
Panache Lingerie, one of the pioneer brands in this category has expanded its Sports Bra division exponentially since its inception. Using the latest 3D motion and biochemical technology, the development of sports bras that can encapsulate a large breast size became possible. Now their variety of style and print choices are extensive with options in sizes 28- 40 DD-J cups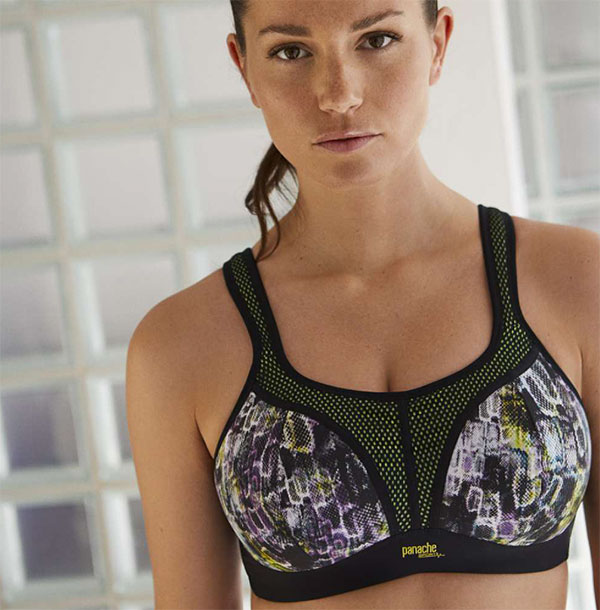 Panache No Wire
The Freya Dynamic soft cup crop and Core underwire models (Core not shown) offer mix and match options for full-busted figures. They are both available in sizes 28 through 38 and cup sizes D through K.  High tech fabrics and intense wear testing are used to keep bounce down for curvy customers.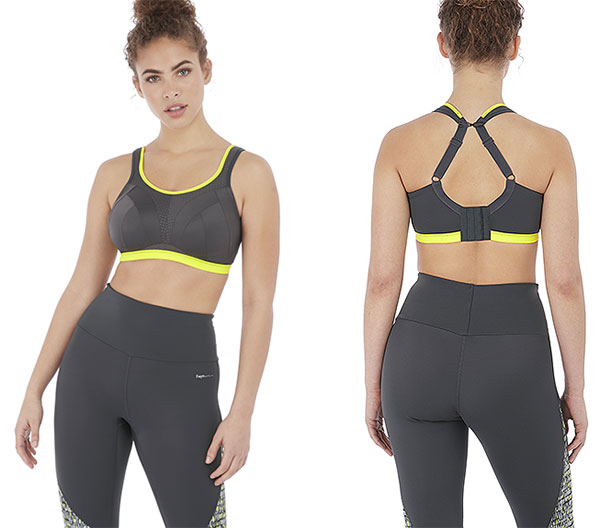 Freya Dynamic Soft Cup
The Elomi Energise has been my sports bra of choice for years and is a great option for plus-size figures. It's supportive without feeling uncomfortable and suitable for a wide range of high impact activities. The Elomi Energise comes in band sizes 32 to 46 and cup sizes D to K. I have been using this bra extensively during my covid workouts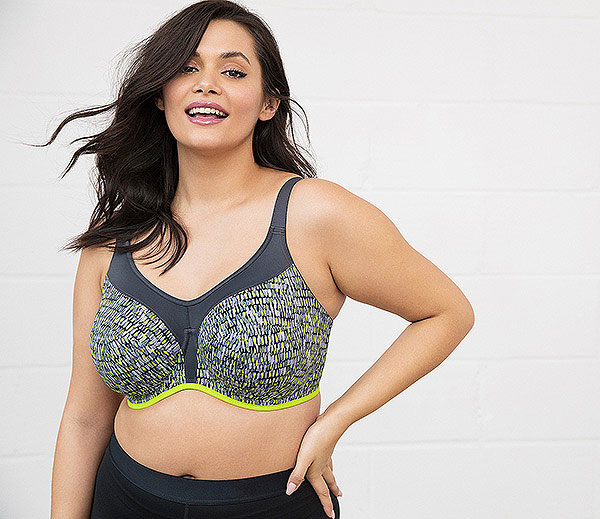 Elomi Energise
Pour Moi offers several innovative sports bras in this size range – The Energy Rush and the Energy Elevate. The Elevate features a zip front that is totally unique while the Rush offers a high-quality underwired option. I love how they incorporate bright colors and modern touches seen in smaller size ranges into their sports line.  In fact, they are well known for this. The Elevate and the Energy Rush comes in band sizes 32 to 40 and cup sizes C to J.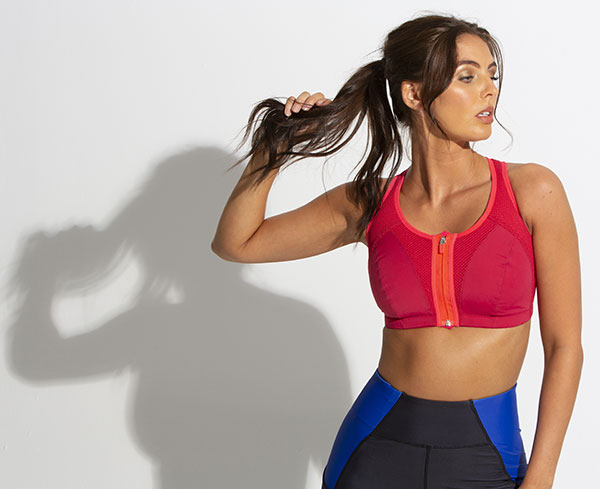 Pour Moi Elevate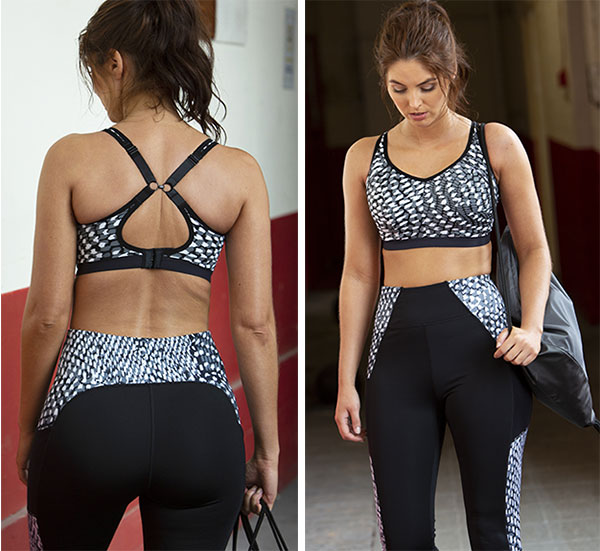 Pour Moi Rush
It can be harder to find sports bras that go past a 40-band size so it's nice to see Sculptresse offering their Sports Balconnet in 34 to 46 bands as well as D to J cup sizes. This encapsulating sports bra is designed for comfort as well as its moisture wicking ability. By the way, this is another of Ellen's go to riding bras.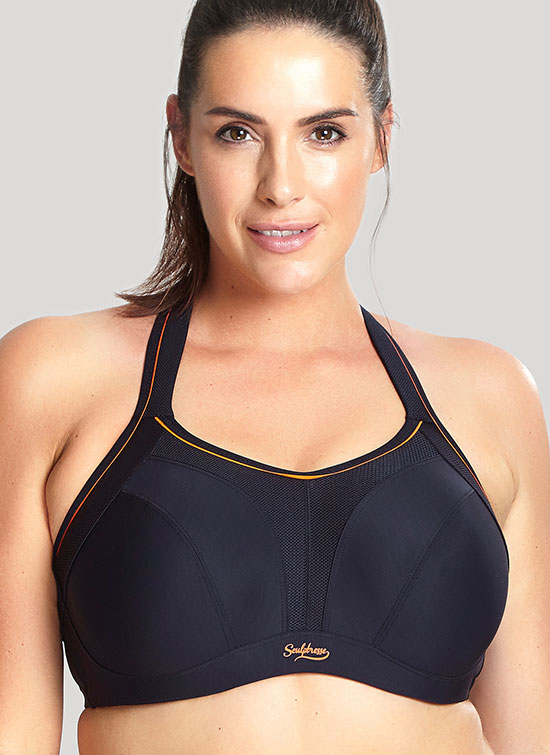 Sculptress Balconnet
The five star Wacoal Sport Underwire Bra is actually the first bra that was ever featured on Lingerie Briefs (2009) and is still going strong. It's available in continuity and fashion colors. This bra is known for the outside underwire frame that is unique to the industry and makes it appropriate for high-impact workouts.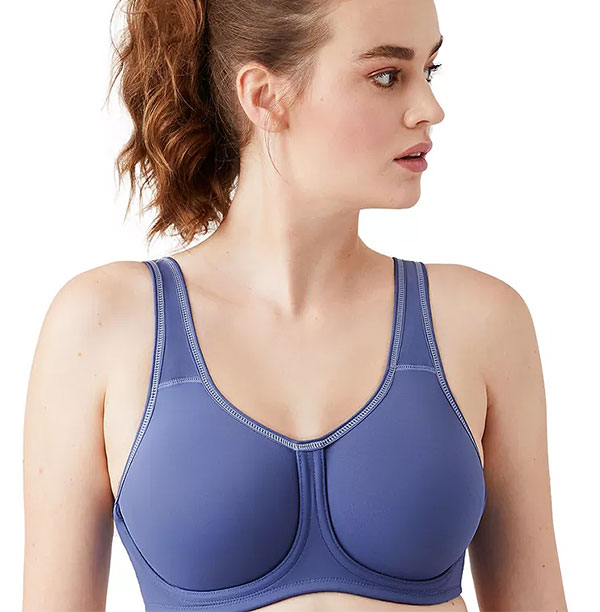 Wacoal Underwire
Exercising heavily during quarantine has really made me consider all of the work that goes into building these curve friendly sports bras. I've lost 30 pounds since August as of Christmas and none of it would have happened without being able to jump or move comfortably during high impact activities. Sports bras are more than fashion accessories and the ability to engage in real fitness activities shouldn't be limited by body type. I'm glad to have so many options as I work my way down the scale!