Spotlight on Emma Harris' Tiffany Collection ~ A Celebration of Lace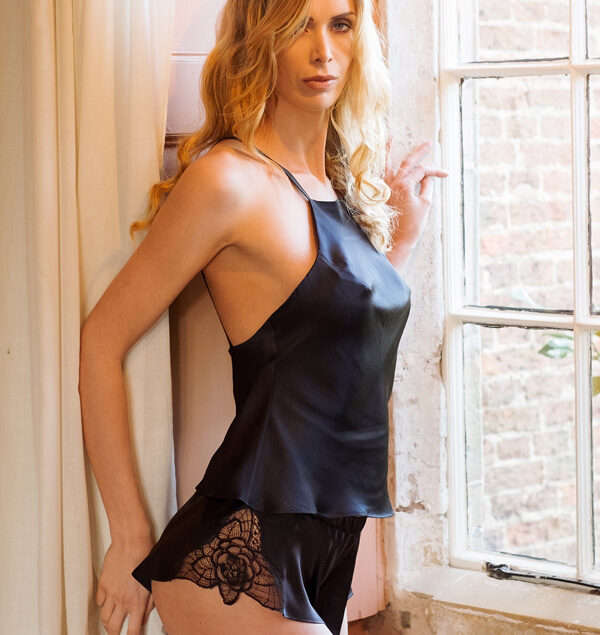 Emma Harris, the British luxury lingerie atelier, today showcases one of her best-selling and most enduring collections – TIFFANY.
Influenced by Tiffany's mirror frames, this range explores 20s & 30s elegance, with a dramatic edge conveyed by show stopping lace backs and lace inlays framed with silk satin. Flowing slips, cami tops and flared shorts are cut on the bias to give a fluid figure-hugging fit. The striking and generous lace embellishments are delicately topstitched to highlight the intricate style lines.
As always, French seams, pin hems and delicate topstitching are used on each garment. In classic black, sophisticated champagne and flattering dusky pink, Tiffany is a lingerie drawer must have.
TIFFANY PLUNGE BRA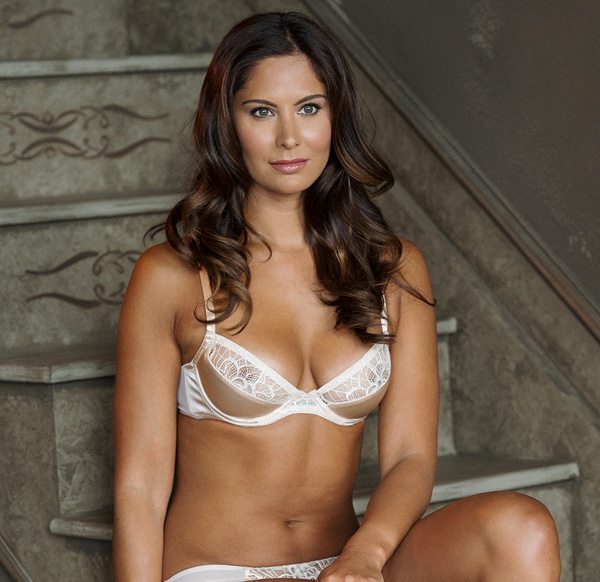 Designed to provide support and uplift for an enhanced cleavage, the Tiffany Plunge Bra's upper cups feature lace inlays outlined by silk satin. Sheer mesh on the side wings and solid satin at the back highlight the graphical details found in the matching briefs.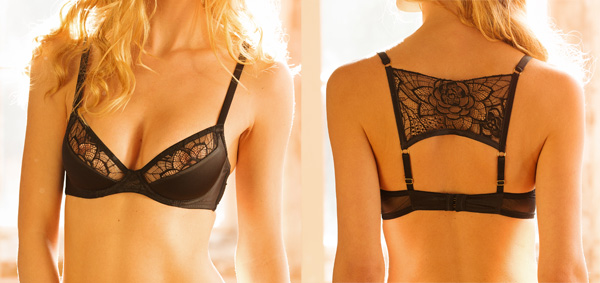 The show-stopping lace frame at the back, with its careful placement and delicate topstitching, echoes with the theme found throughout the range.
TIFFANY BRIEFS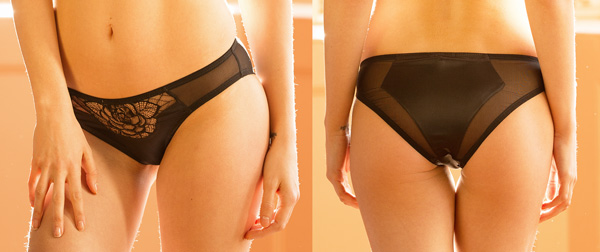 A carefully chosen lace placement sits at the front waist of Tiffany Briefs, cut into a defined angle of silk satin and delicately topstitched to highlight the design detail. Contrasting sheer mesh and solid silk satin are used in bold Deco-inspired lines at the back which are echoed in the matching bra's styling.
TIFFANY CAMI TOP AND SHORTS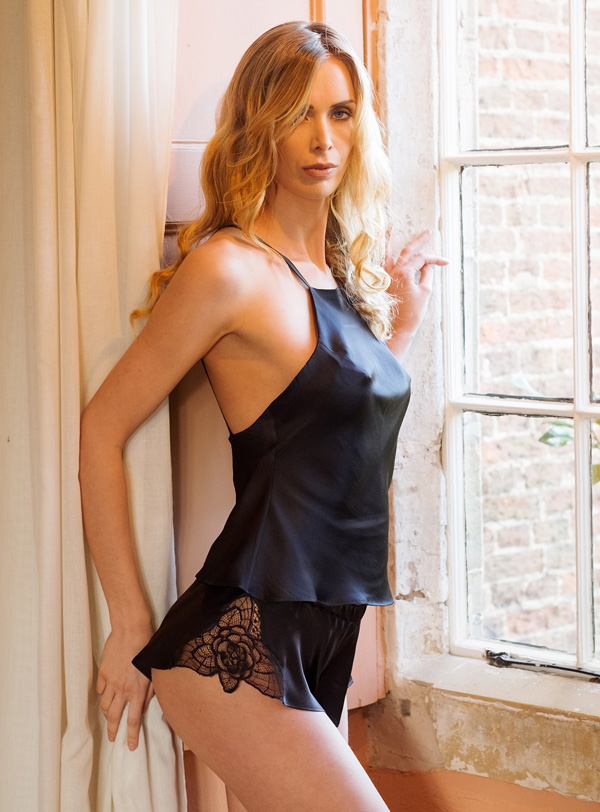 Made from 100% silk satin, this Camisole Top has darts at the bust and is cut on the bias to create a figure-skimming fit. The striking lace panel at the rear is carefully selected and cut into a large Deco- inspired vertical frame sitting along the back. The lace inlay is delicately topstitched to highlight the frame's outline.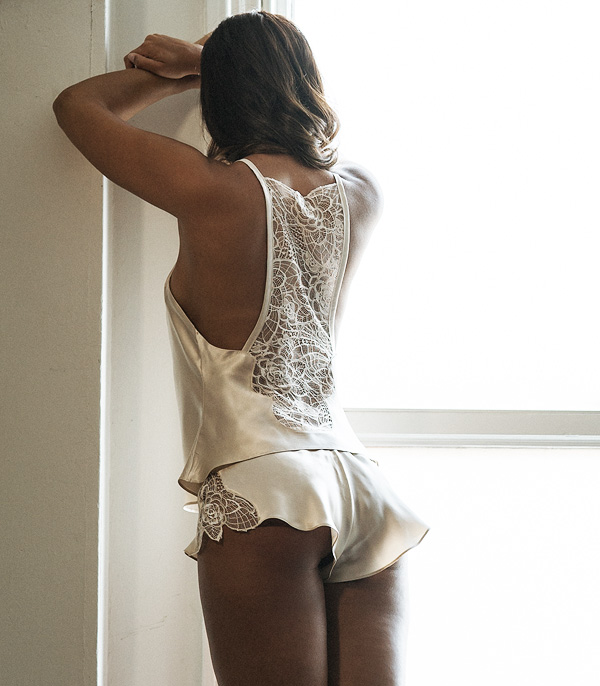 In a classic 'French knicker' style, these 100% silk satin Tiffany Flared Shorts are gently elasticated at the waist and cut on the bias for a seductive cut on the hips. An inlay of carefully chosen lace placement is delicately stitched into a Deco-inspired frame, and topstitched on the silk to highlight the design detail.
TIFFANY SLIP (KNEE-LENGTH)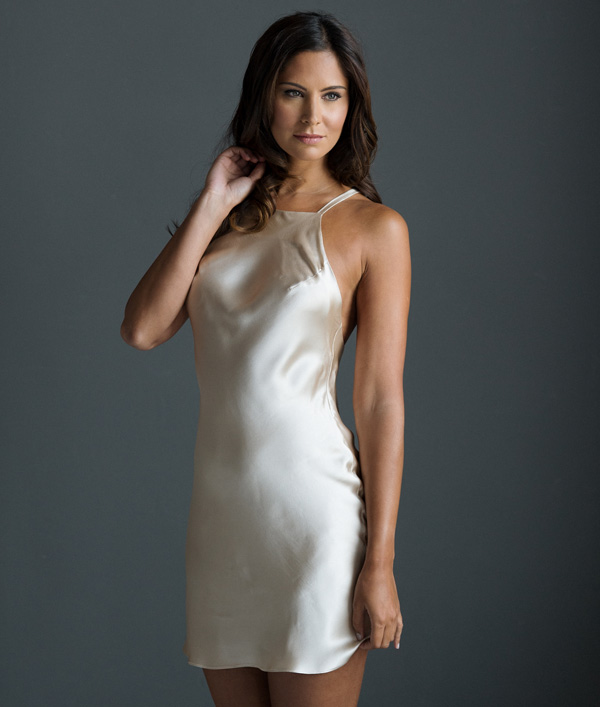 Tiffany 100% silk satin Short Slip is cut on the bias and features darts at the bust to provide a figure-hugging fit with a graceful flow. The arresting panel at the back is a carefully chosen lace placement in a Deco-inspired shape, delicately topstitched to outline its frame – available in knee-length and full-length styles.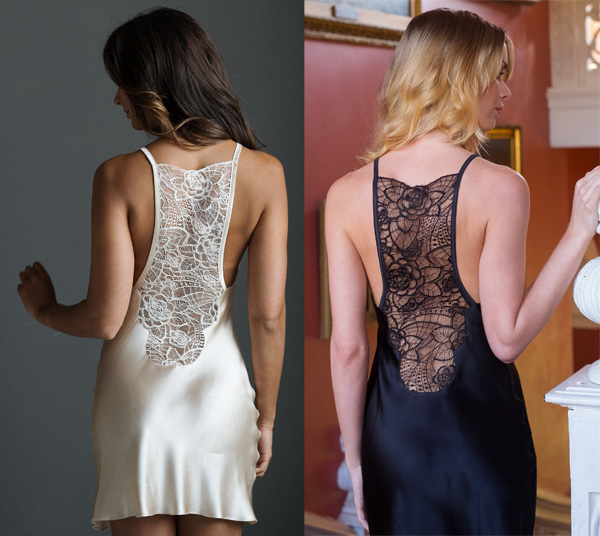 Tiffany is available to order immediately from https://emma-harris.com/
Any interested retail stockists can find out more information from Helen Masters of Pudding Lingerie Consultancy at helen.masters@puddinglingerie.com or on 07789921097 for more information and to book a virtual appointment.