Katherine Hamilton AW21 Collection Aways a Perfect Fit at New Lower Prices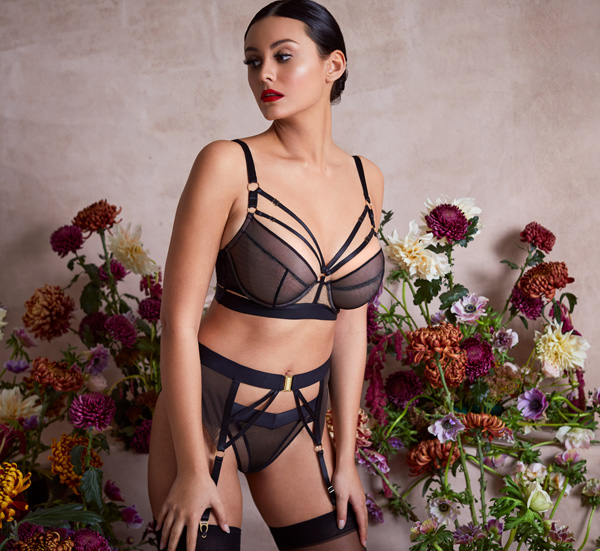 Katherine Hamilton has just unveiled its AW21 collection – where delicate meets daring.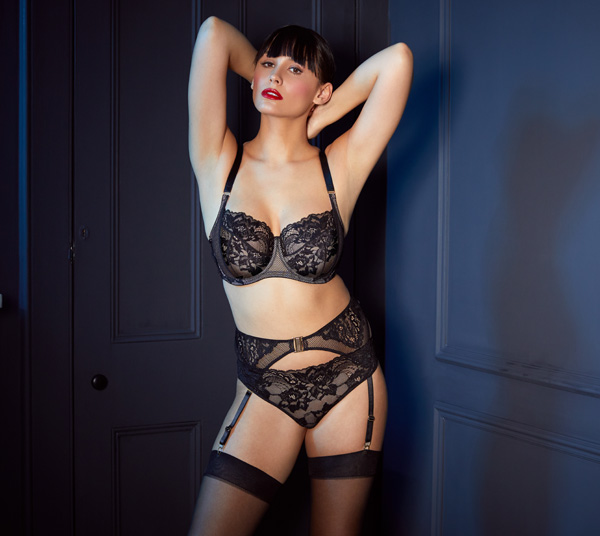 The new ranges from the luxury British brand specialising in lingerie for larger cups and smaller backs are available from September 2021 and can be forward ordered now. They blend intricate embroidery and lace with statement harness-inspired detailing – culminating in the perfect balance of seduction, confidence and beauty.
The Katherine Hamilton brand has continued to go from strength to strength over the recent global pandemic and is celebrating its success by adding even more choice. AW21 sees the introduction of new bra styles including the brand's first padded and plunge shapes. Discover the expansion of the styles available at a lower price point starting at £69.
Owner and designer Katherine says,
"It's our mission to continually invest in product innovation and use our expertise to provide specialist solutions beyond the capability of broad-appeal brands. We are very excited to be able to add some truly stunning designs at more accessible prices without compromise in our trademark fit and shape, such as the Simone bra at £69, as well as new styles and sizes for people who prefer padding and a plunge shape."
"We are keen to support retailers in the new environment and will continue to offer flexible terms such as drop shipping and selling to order as we know now, more than ever, people need to have ranges that are highly commercial, will sell through, and require minimal initial outlay. That is what we are offering for AW21."
The AW21 collection boasts a warm colour palette of delicious plum, striking cyan and accents of spicy ginger for warmth along with pale rose to evoke crisp winter mornings. It features knock-em-dead styles such as:
ALEXANDRA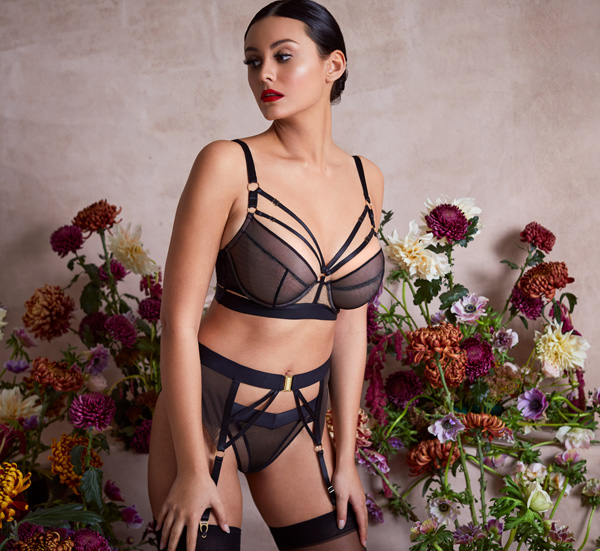 A harness inspired plunge style bra – the perfect addition to appeal to wider customer tastes, narrow set breasts and to coordinate with and enhance low cut clothing – in classically seductive black.
In line with Katherine Hamilton's fit focus, it features adjustable neck edge strapping to cater for different breast fullness.
The strappy detail is carried through into the coordinates with an emphasis on metallic hardware throughout.
A strong, striking, and seductive look for the modern woman
SIMONE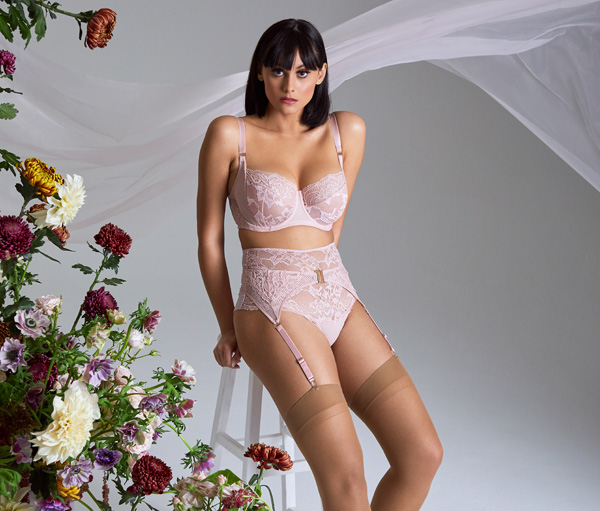 The fabulous new lower price point offering – with all the trademark Kathrine Hamilton luxury and perfect fit, now at a price that many more people can afford.
At £69, the bra offers the same lightweight luxury materials, snug fit around the breast root and forward projection that has made Katherine Hamilton so popular, along with a classically beautiful and seductive lacy look.
In rose or black, this is the perfect collection for everyday or special occasion wear.
The matching briefs feature a soft stretch lace and mesh offering a gentle fit over the tummy and back leg; enhanced comfort and minimal VPL.
What's more, Simone can be dressed up with the unique suspender belt design or stunning lace bodysuit.
Incredible quality and value that is simply stunning and highly commercial.
ANGELA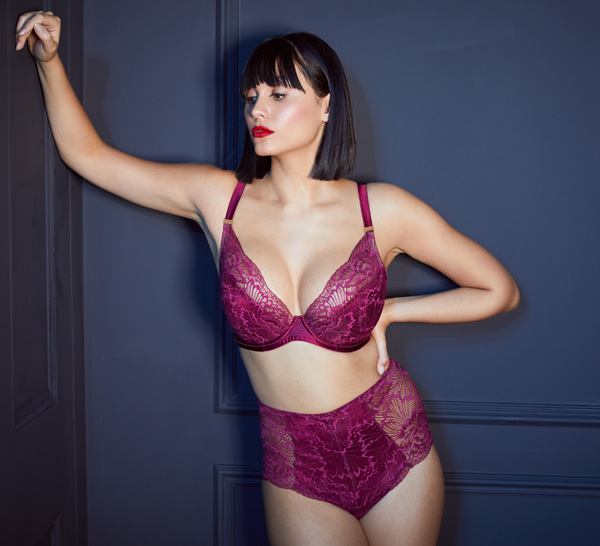 A true celebration of luxury lingerie, Angela boasts the softest silk and finest floral lace.
This covetable collection includes a new padded plunge style with overlaid stretch lace cup for containment (no spilling out when you bend over!), ideal for customers with close set breasts or to coordinate with low cup apparel.
It also features the popular non -padded bra shape, with the same fit as the tried and tested Eden and Abrielle
Designed to fit and flatter, it is available in delicious Boysenberry and with soft, stretchy briefs for comfort and minimal VPL.
EVELYN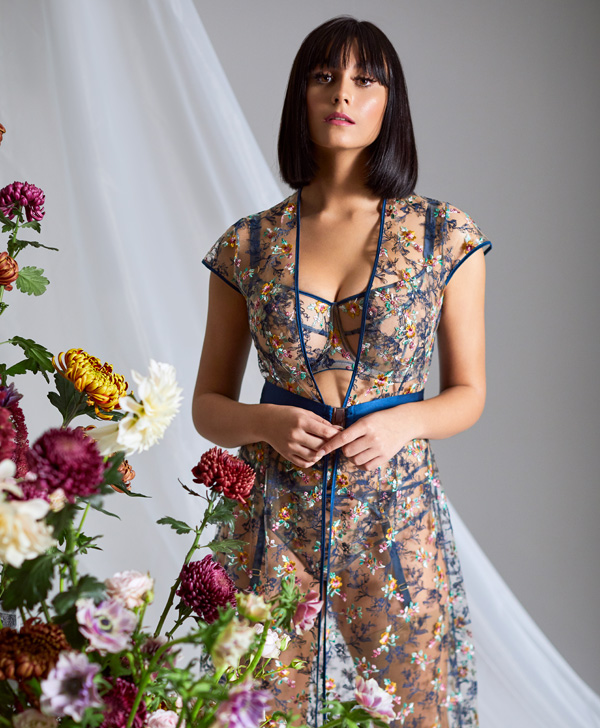 An ode to embroidery, this truly stunning multi coloured collection showcases intricate French needlework in all its glory.
Each piece features a sketch style cyan thread design with multicolour flowers and leaves, real silk accents and minimal seams to showcase the beauty of the embroidery without interruption or distraction.
The full cup bra offers the ultimate support and is accompanied by a full-length robe to showcase the embroidery.
Watch this space for more images of the new collections in coming weeks!
Any interested stockists should contact Helen Masters of Pudding Lingerie, Katherine Hamilton's representative on helen.masters@puddinglingerie.com or 0778992197.