Affordable Luxury: Shadowline's Satin Essentials & Charming Collections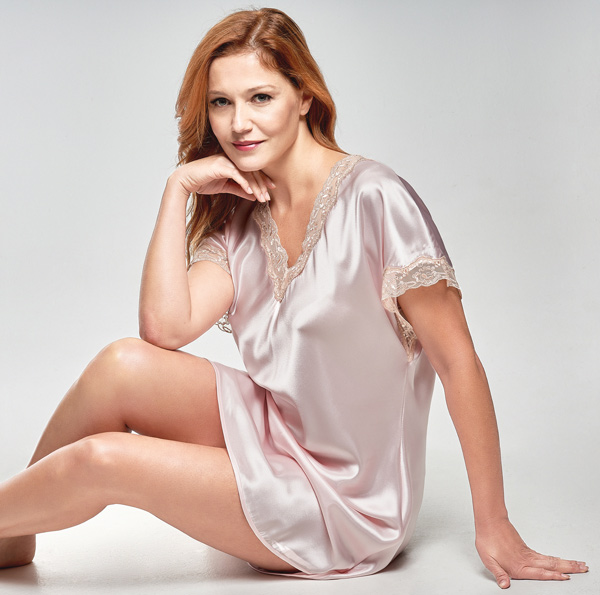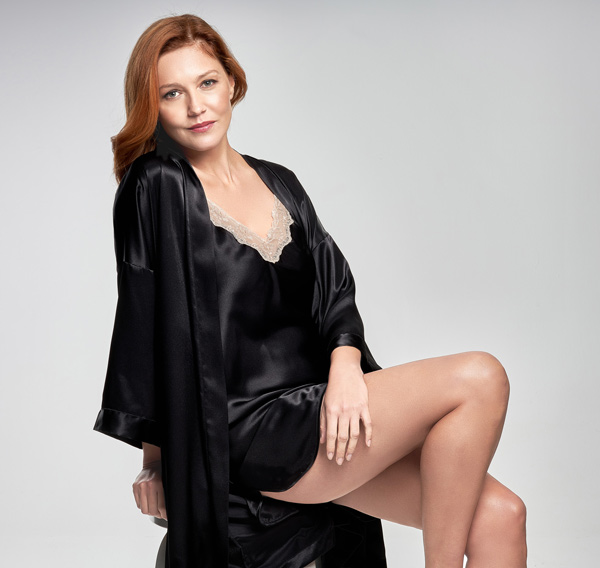 The timeless Charming and Satin Essentials Collections from Shadowline in Poly Satin Charmeuse never disappoint. These popular, silky collections continuously achieve best seller status with fans enamored with the brand's soft, draping fabric. There are nine styles in the two collections that can be mixed and matched with each other as they are made with the same lustrous fabric. The majority of styles featured are cut on the bias, which is very flattering on every body shape. (Bias cut is when the fabric of a garment is cut at a diagonal angle). This technique takes advantage of the greater stretch in the bias which allows for the fabric to drape gracefully over the body. This flexible fit has a wide appeal for all ages and figures. Shadowline's Poly Satin Charmeuse fabric also has a 'lingerie finish' which gives it a luxurious feel at such an affordable price, that it always surprises people! Customers also love that these garments are machine washable and wrinkle free.
Satin Essentials Collection
Shadowline's Satin Essentials collection features 4 styles that can all be worn as both under layers or outerwear!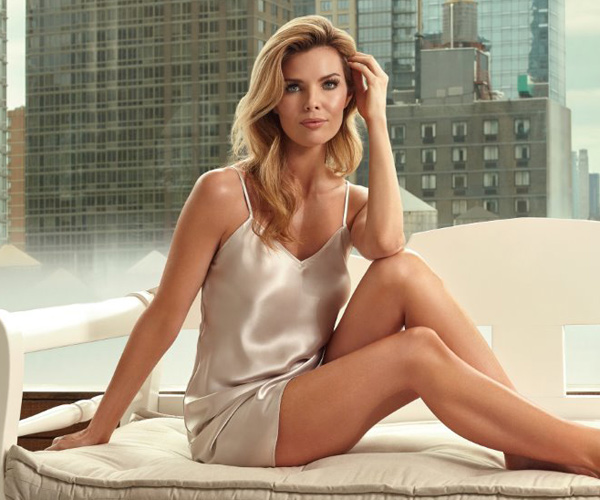 Satin Essentials Chemise with Adjustable Straps (#27291) is a luxurious 34" spaghetti strap chemise made with Shadowline's Poly Satin Charmeuse. This silky gown is cut on the bias and will softly drape and float on your body for a flattering fit. Perfect as a short slip, a slip dress or to wear as a nightie. Sizes: S-XL in black, taupe and silver.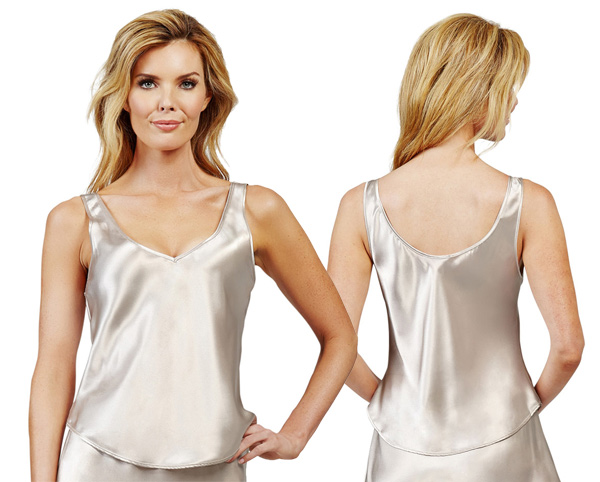 Satin Essentials Wide Strap Camisole (#22091) is so versatile! This sleek, wide strap camisole is reversable so it can be worn either with the v-neck or scoop neck in the front. In silver, taupe and black, this Cami is cut on the bias for a drapey, flattering fit. The camisole hem falls right at the hip. A great piece or to wear alone, layered underneath or paired with the Satin Essentials 15″ Half Slip (below) as an ensemble. Available in sizes S-XL.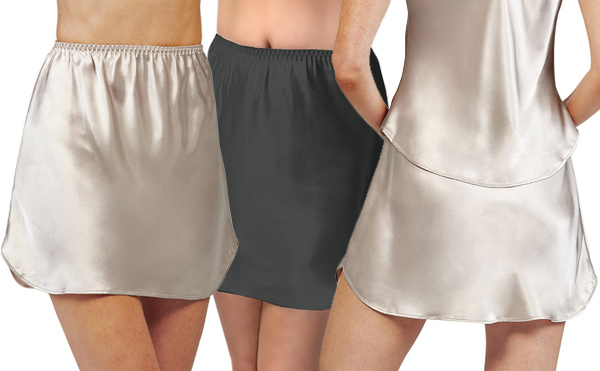 Satin Essentials Half Slip (#47091). Shadowline's 15" Half Slip with curved hem, drapes gently over your hips with its bias cut. Great as an under layer for sheer dresses and skirts and pairs perfectly with the Wide Strap Camisole as a lounge piece, sleepwear or outerwear. S-XL in silver, taupe and black.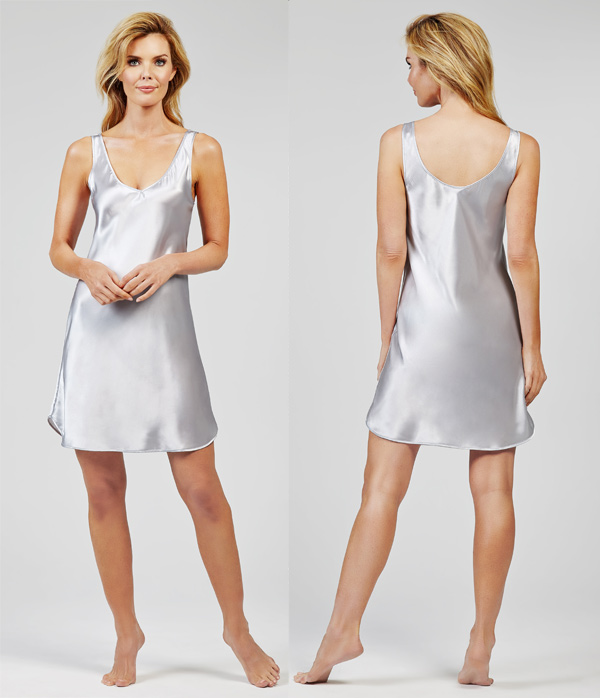 Satin Essentials Wide Strap Chemise (#22091) This delightful Wide Strap Chemise is so comfortable you'll want to wear it out and about as a classy slip dress… or of course to bed! Another bias-cut style, this 34″ chemise can be worn either front of back as there's v-neck on one side and scoop neck on the other! In lovely neutrals: taupe, silver and black, it offers a draped fit in sizes S-XL.
Charming Collection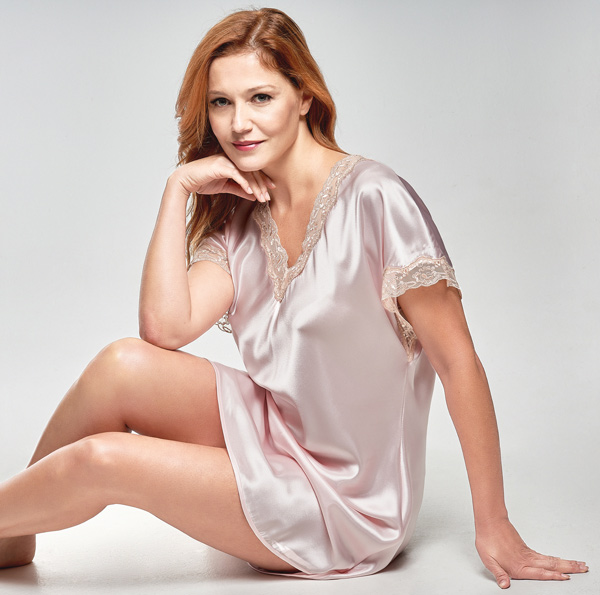 The Charming sleepwear collection in Poly Satin Charmeuse boasts delightful colors in 5 shapes fitting sizes S-3X. Most pieces are cut on the bias for a comfortable, gentle drape on your body.
Vintage Lace Trim Sleepshirt (#4503/4503X shown above) is a dreamy and elegant sleepshirt in sizes S to 3X. The silky fabric gently drapes and hugs your body in all the right places due to it's bias cut. Embellished with vintage lace trim, its 36″ length makes it a perfect bridal piece for modest brides. Luxury at a very affordable price, this sleepshirt is available in seven elegant colors including new Blush, plus Black, Fuchsia, Navy, Silver, Mint and Blue.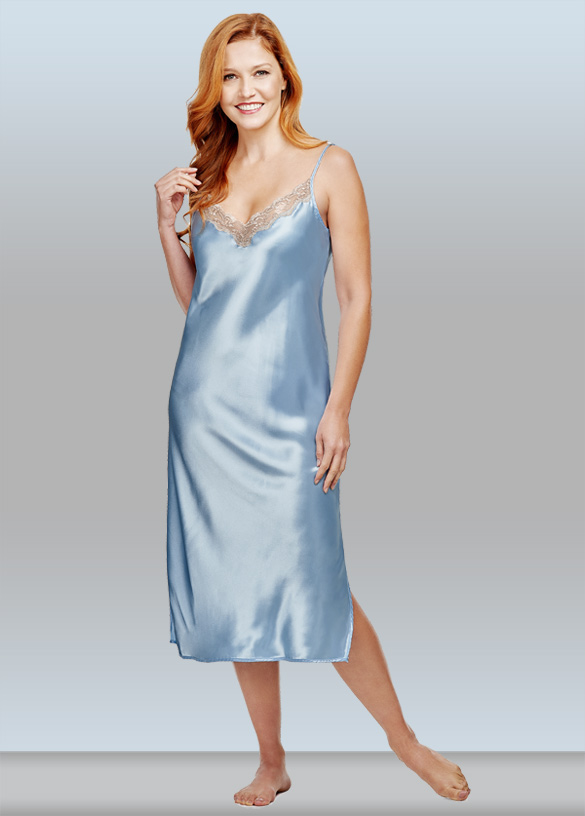 Shadowline's Silky Ballet Nightgown (#4502/4502X) is a classically stylish yet flirty gown. Sweet, embroidered lace trim adds a vintage appeal, while the adjustable spaghetti straps offer a chic look. The modest 45″ length is ideal for lounging around in or a great night sleep. Cut on the bias, this nightgown is the flattering one you'll be reaching for every night. Available in Navy, Black and Blue in sizes S-3X, this also makes a wonderful bridal gift.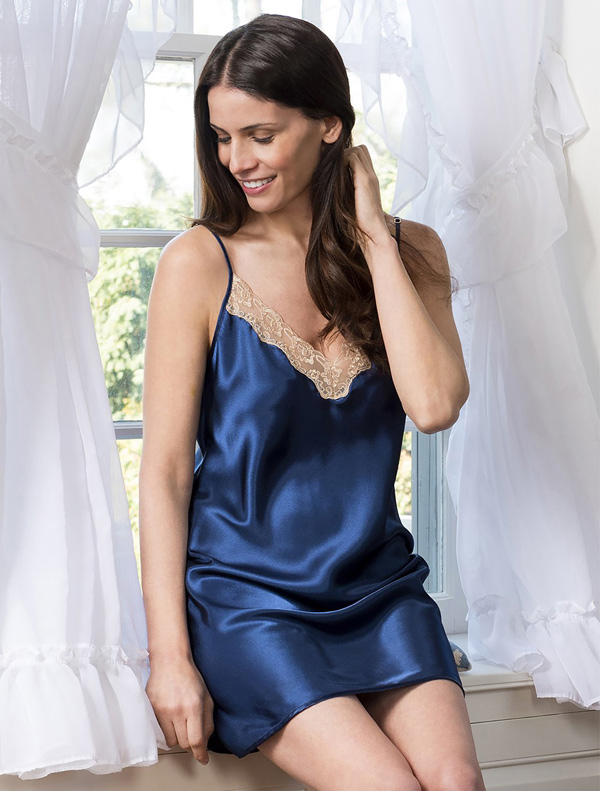 Vintage Lace Trim Chemise (#4505) is the epitome of glamorous comfort. Exhibiting the popular bias cut, this short 34″ chemise is simply dreamy. Pretty vintage lace trim embellishes the neckline and adjustable spaghetti straps complete the look. Be brave and wear out on a date as a slip dress, or curl up in bed for a fabulous sleep in this comfy short nightgown. Pair with the matching Satin Wrap Robe (below) for added comfort and coverage. In sizes S-L, available colors are Black, Navy and Blue.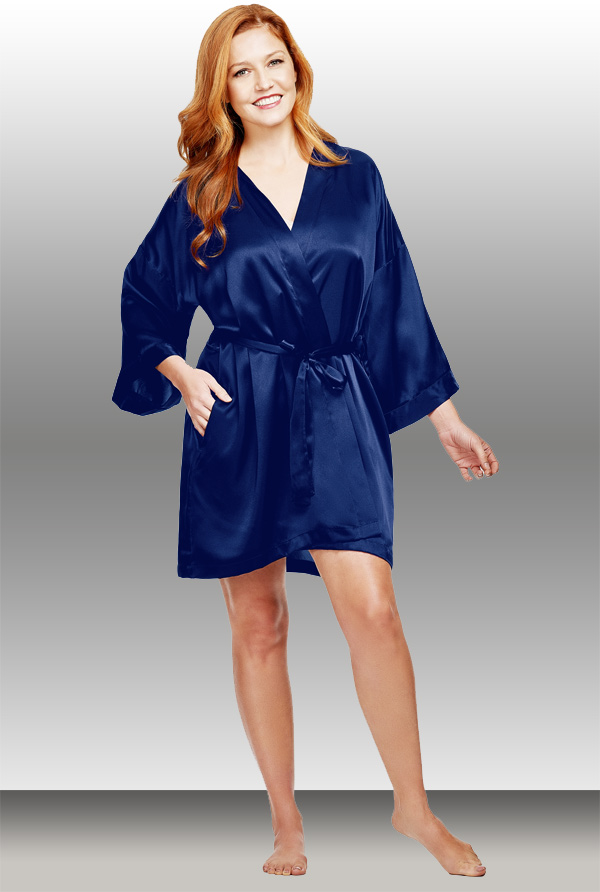 Satin Wrap Robe (#4510) is a silky, kimono-style lounging robe. This pretty A-line wrap robe is perfect to simply throw on and tie as you lounge around. Features wide, 3/4 length sleeves and dropped shoulders in Shadowline's Poly Satin Charmeuse fabric. Great to pair with any of the garments in the Charming and Satin Essentials collections. In sizes S/M, L/XL & 2x/3x, colors include Blue, Black and Navy.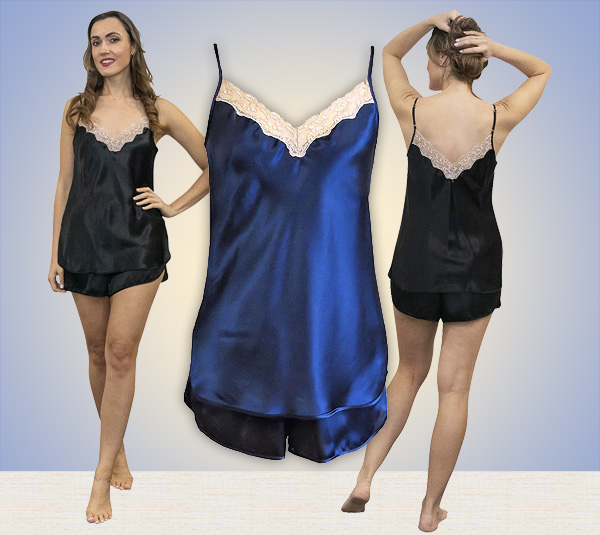 Satin Cami & Tap Pant Set (#4510) is not only glamorous, it's fun and sexy! This 2-piece pajama set consists of a shorter version of the chemise in this collection also trimmed in vintage lace. This set pairs with adorable tap pants that feature a shirttail hemline for ease in fit and movement. A great lounging set or gift! In Blue, Navy and Black, sizes: S-3X.
See Shadowline's other popular collections