Miss Vivienne: Slow Fashion Lingerie from Scotland
By ESTELLE PULESTON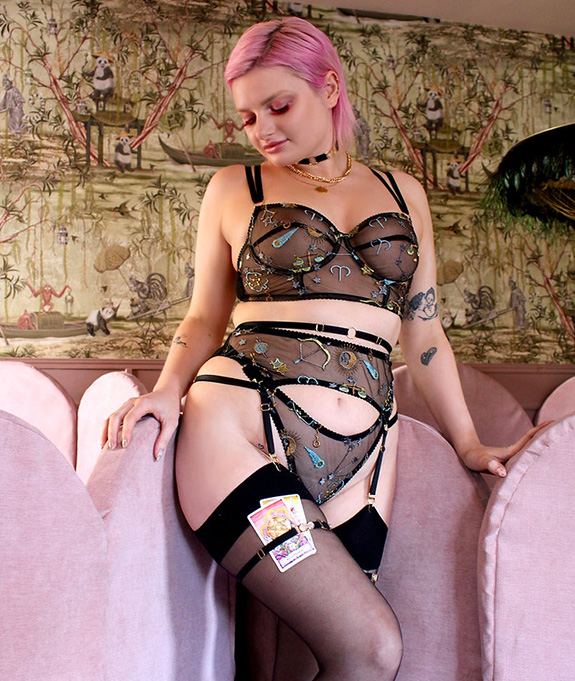 Somewhere up near the top of my current lingerie wishlist is a set by Miss Vivienne, a small Scottish brand created by Vivienne Lynch. Launched in 2017 right after she completed a fashion degree, this indie label has since grown into a small team of four people who still create everything in house and on a made-to-order basis, in line with the brand's ethos for ethical and sustainable production.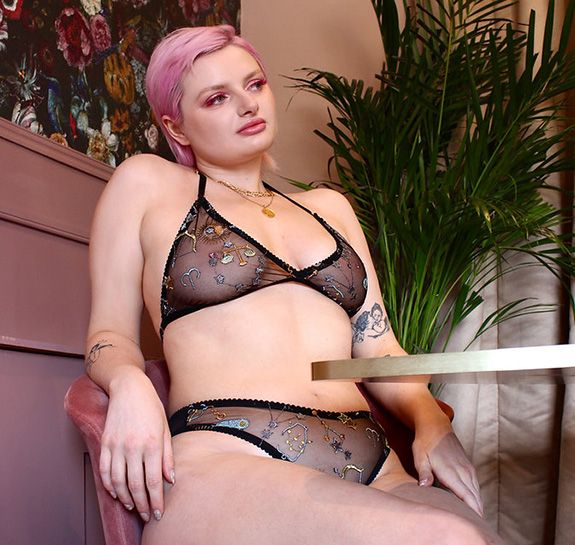 It's a brand that I constantly see others wearing on Instagram, where it always catches my eye thanks to considered silhouettes and visually-impactful fabric choices. Most recently released is the Astra range – in black Italian tulle embroidered with constellations, shooting stars and astrology symbols in shimmering metallics, it's a fabulous addition to the ongoing celestial lingerie trend.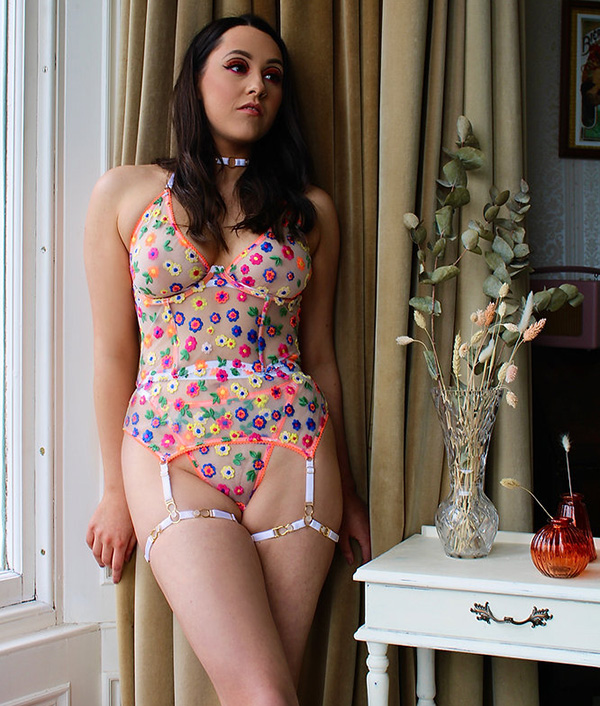 After something more colorful? It doesn't get much bolder than Molly, a bright white collection embroidered with a zingy 'flower power' pattern, and trimmed with coordinating neon orange elastic. Or maybe you're after something sweet, such as the Isla range in lilac gingham tulle, the stand-out piece from which simply has to be the skirted garter belt with an asymmetrical front opening.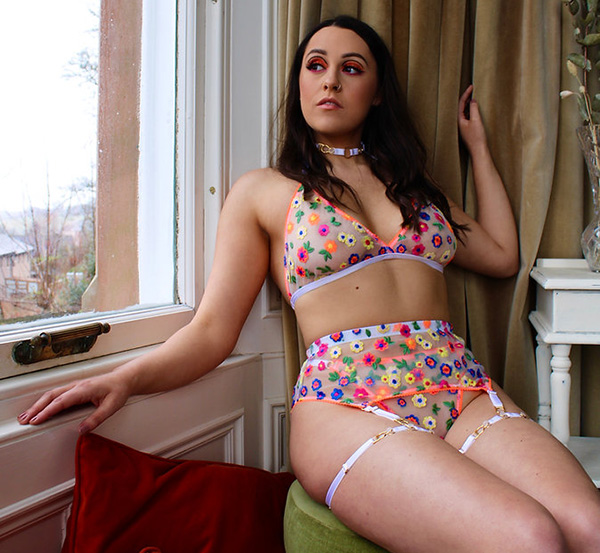 Other collections feature everything from classic black laces to soft velvet to dainty floral prints, and garment options range from the tried-and-true basics such as balconette bras through to fun fashion cuts including cupless bustiers and high-neck bralettes. Ouvert underwear and body harnesses are in the mix too. Basically, whatever your lingerie vibe, there's probably a Miss Vivienne set to suit it!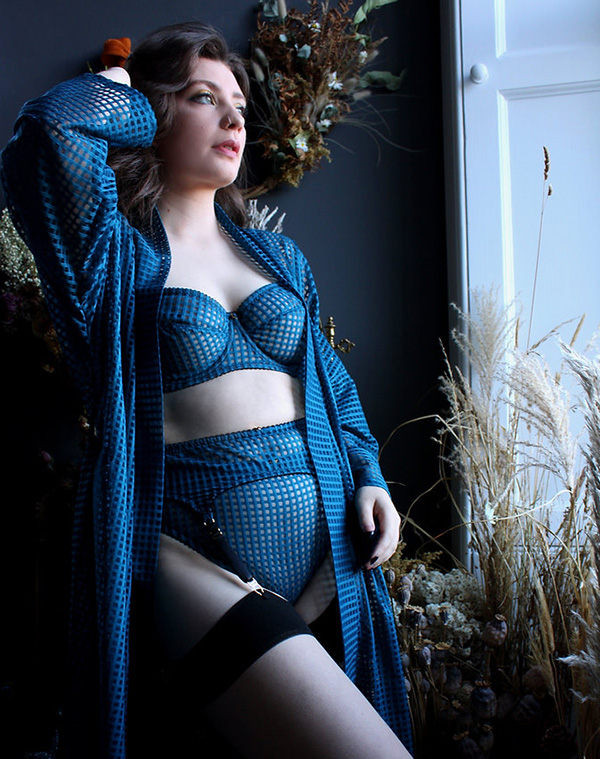 When I spoke to the designer, she highlighted that her creative process begins with the materials. Sometimes she'll get an idea for a new garment shape, but doesn't make it until she finds the perfect fabric match. "The fabric/color schemes/silhouettes all have to work together to create a cohesive theme" she told me, going on to explain that rather than trying to force new collections to happen, she simply creates them as and when she finds an inspiring fabric.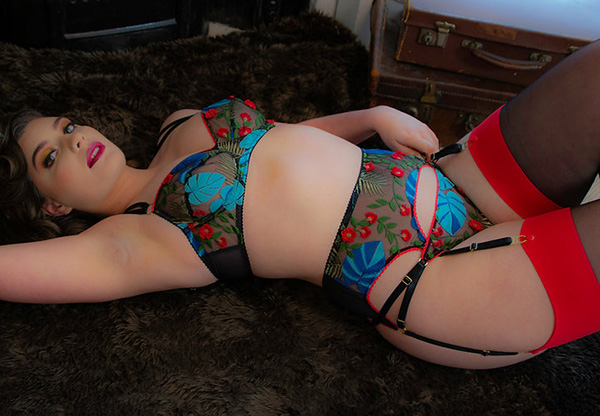 This generally works out at around five new product ranges per year, meaning the brand follows a slow fashion, 'quality over quantity' approach to designing. As Vivienne puts it, "My customers deserve lingerie that has been well thought out and I think that's difficult to achieve when working to a strict deadline".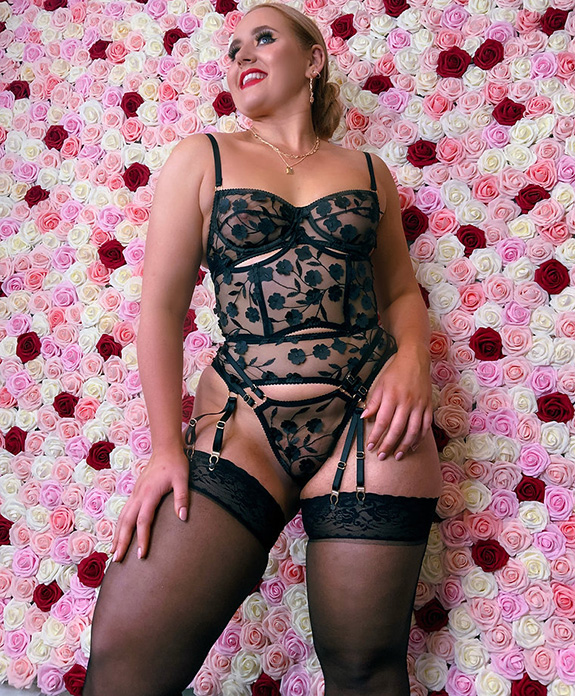 Sewing garments to order not only reduces wastage, but has also allowed Miss Vivienne to offer an expansive range of bra sizes which run from 28B to 40G (US 40I). Bottoms come in S-XL as standard, and custom sizing is an option. Prices start at around $40 for bottoms and go up to approximately $120, or $300 for the navy gingham mesh robe in the Stella collection.
Contact information:
Website: https://www.missvivienne.co.uk/
Instagram: @missviviennelingerie
Email: info@missvivienne.co.uk
Read and See other Articles by Estelle Puleston in Featured Designers on Lingerie Briefs