Posie ~ Lingerie for the Luxuriously Minded Bohemian
By ESTELLE PULESTON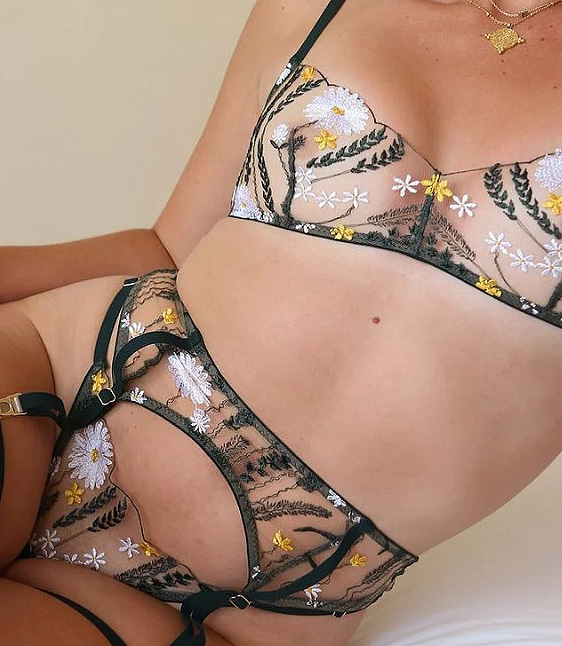 Posie by Posie Upshall is a lingerie brand where sustainability, ethics and luxury collide to create stunningly beautiful designs you can feel good about buying.
Upshall began developing the brand via an incubator program after graduating from the renowned Contour Fashion course at De Montfort University, and it was officially launched in October 2019 – just a few short months before the pandemic hit and the world began to shut down. It was a rocky start to running a new business, to say the least.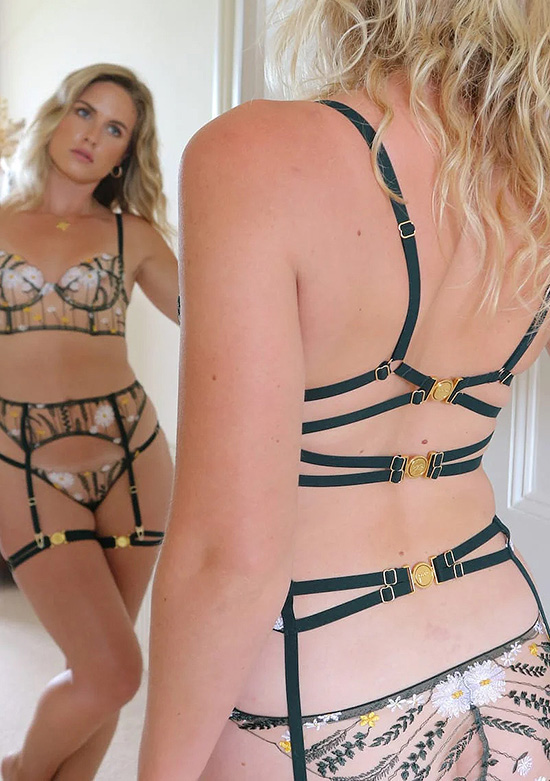 Upshall told me that her original manufacturer changed their minds about doing small-scale production, and other manufacturers she reached out to were closed and not taking on new contracts. "I began to run out of stock and had customers ask if they could buy things I didn't have," she remembers, "I had to start making the pieces myself to keep up with demand. I was spending 12-15 hours a day sewing!"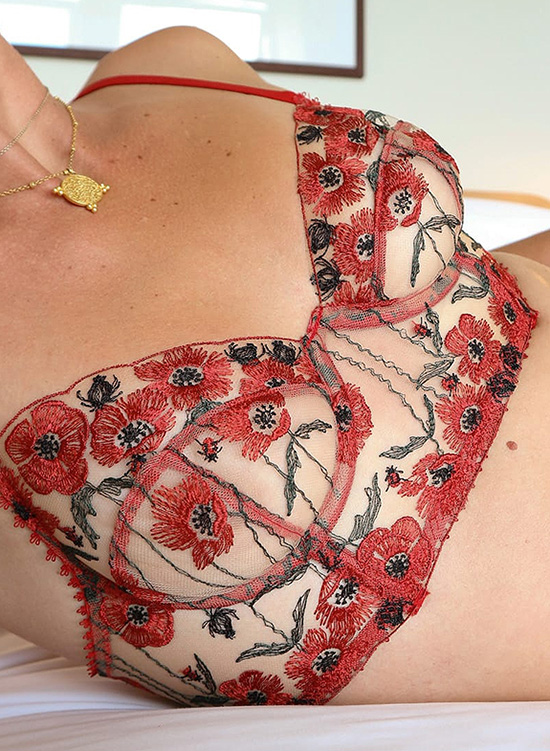 But her effort paid off, and the Posie lingerie brand is still standing. A new collection titled "Rewilding" launched in June, and includes my favorite Posie embroidery to date: featuring vibrant red poppies on sheer tulle, it's already eye-catching and unique from a distance, but take a closer look and you'll also notice tiny ladybugs sprinkled throughout.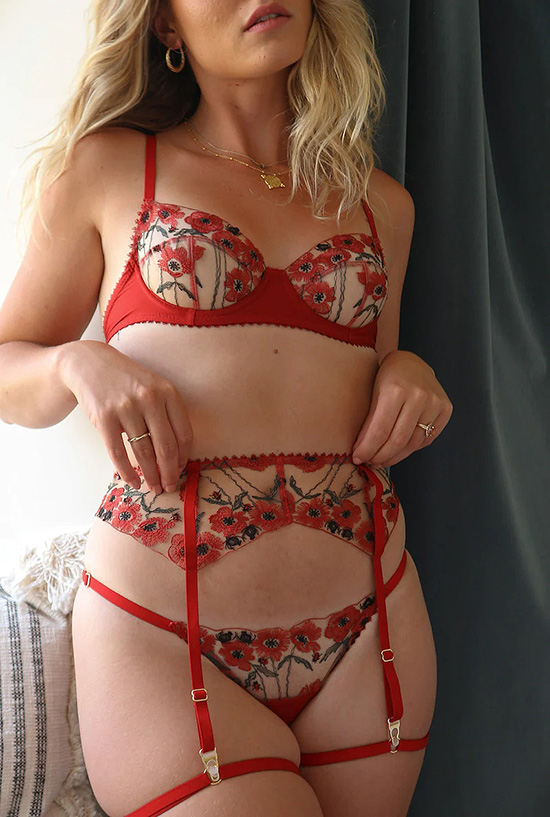 Upshall designs all of Posie's embroideries herself. She spends the majority of her time outdoors (after all, she lives the bohemian life in a gorgeously-decorated van) and finds inspiration in the nature that constantly surrounds her.
"When I'm walking in nature, I see color palettes," she explains, "It could be the colors from the sunlight hitting the glistening ocean or how the color of a flower works harmoniously with the green leaves… I start imagining what the things I see in nature would look like if they became embroidery."
The brand made a splash right from the start with its unusual moth embroidery, originally done in an earthy brown color and now reimagined in blue. It also caught my attention due to its decadent backs, which are every bit as pretty as the fronts of the sets. Some might even say more so!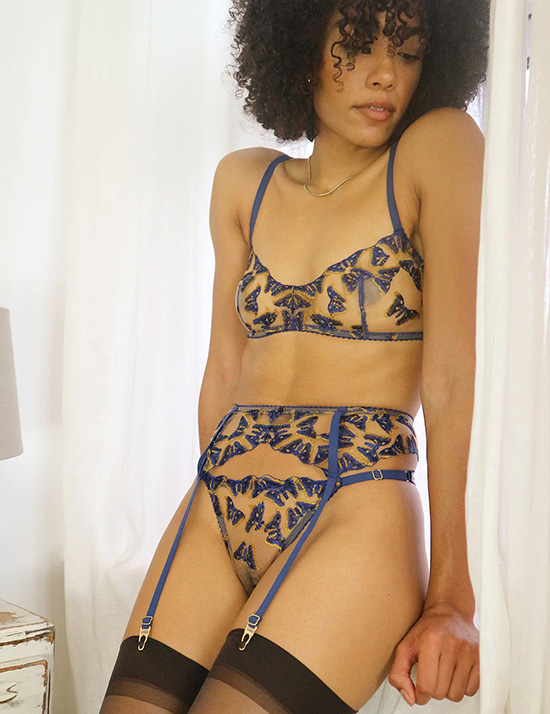 Posie bras and garter belts fasten with custom circular clasps in gold-toned metal, and use adjustable straps to create a flexible fit. Wired bras come in six or seven lettered sizes, but each one covers three sister sizes e.g. 30D, 32C and 34B. It's a sizing system which has been adopted by many smaller lingerie brands in recent years.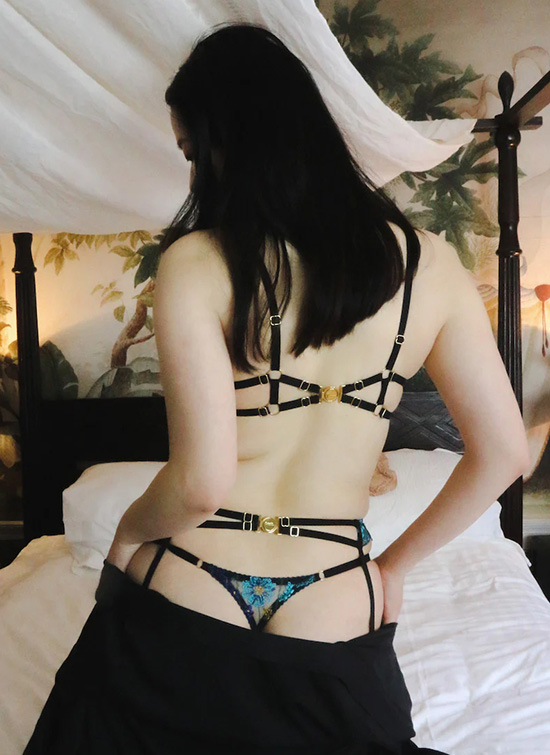 The most important thing for Upshall when launching this brand was to make it an ethical one. While she admits that the embroideries are not yet sustainable – part of being an ethical brand is being a transparent one – the other fabrics, such as bamboo 'silk' and deadstock lace, are. Everything is made in the UK by people paid a fair wage, and in small quantities to avoid overproduction-related waste.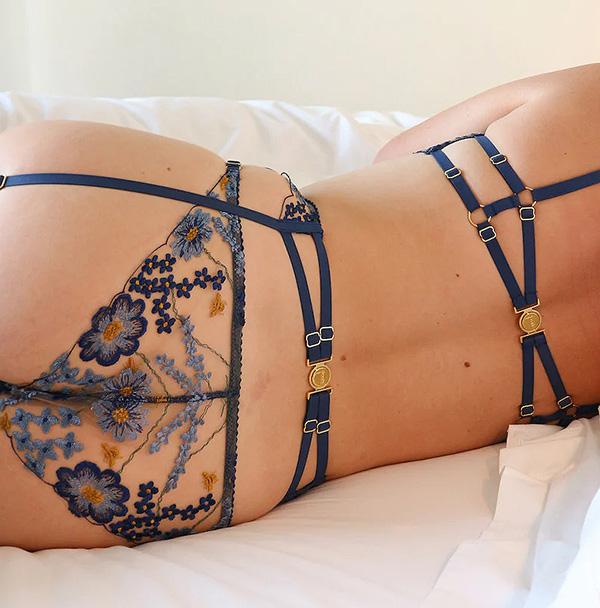 One day, she'd love to have her own factory where everything from creating fabrics and components through to sewing the final garments could be done in house. "One of the biggest struggles with creating an ethical and sustainable brand is not always knowing if suppliers/manufacturers are what they say they are," she says, "By having a factory, I could ensure everything was 100% ethical. My ultimate goal is to have a completely transparent supply chain."
Posie lingerie is priced from £70-200, approximately $85-240, and comes in sizes XXS-2XL (covering bra sizes 30C to 34G/38E).
Contact information:
Website: https://www.posielingerie.com/
Instagram: @posielingerie
Email: posie@posielingerie.com
See More Article by Estelle Puleston in our Gallery