Anita Active Bestselling Momentum Sports Bra now in fresh Lime Light Color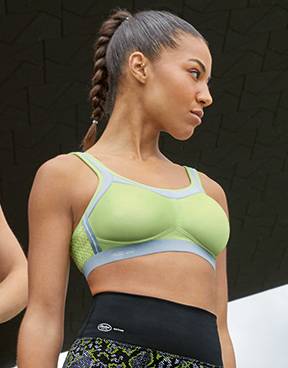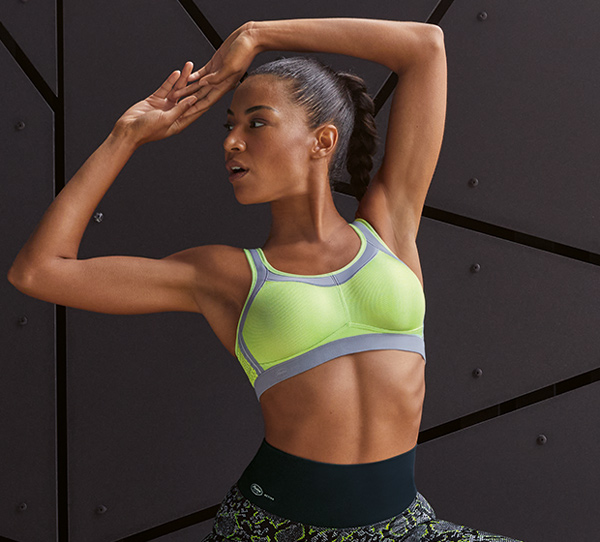 Looking for an ultra chic and supportive sports bra for your workouts? Look no further than Anita Active's Momentum Sports Bra now in fresh Lime Light! This besteller is the number one choice for anyone looking for maximum support, outstanding fit and exceptional quality without losing any style points.
Made of high-tech wicking material, the high impact Momentum will keep you cool and dry. Seamless, wireless cups provide exceptional support and prevent breast movement, protecting sensitive tissues from the wear and tear of strenuous workouts.
So stylish in Lime Light, the outer metallic eyelet functional fabric has a honeycomb look. The inner lining is made of moisture absorbing and moisture-wicking terry cloth. Seamless, extra-soft cups not only reduce breast movement to a minimum, but also ensure effective Anita Sweat Management without overheating or overcooling thanks to the clever combination of high-tech materials. Breathable, elastic mesh fabrics in the back provide ultra-light comfort. Other features include a wide, stable underbust band, high-cut trims at the neckline and armholes, as well as fully padded and adjustable straps ensure an unbeatable shape and maximum support.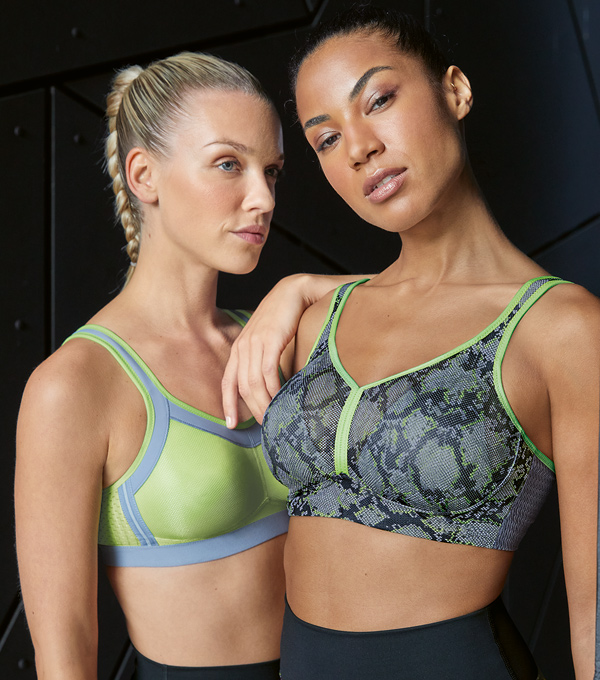 Momentum Sports Bra (#5529) shown with the 'coming soon'
Air Control Delta Pad Sports Bra in new viper grey print (#5544)
Size Range: A 32-44, B 30-44, C-E 30-46, F 30-44, G 30-42 and H 30-38
Colors 5529: Lime Light (new!), Electric Pink, Iconic Grey, Blue Iris, White, Black, Desert
High Waist Massage Leggings
To coordinate with the Lime Light colored Momentum Sports Bra, pair with Anita's newest Massage Leggings (#1676) in the trend-right snake print with lime light accents featuring a High Waist Band. This especially feminine style achieved through an extra wide and ultra-soft waistband offers a feel-good upgrade.
Honored with the ISPO Award and the iF Design Award, the high-performance Leggings score points with a variety of clever technical features. While the soft waistband, extra-flat seams and clean-cut edging around the legs ensure an unbeatable feeling of comfort, the textured fabric with its integrated 3D nubs gives a continuously toning leg massage, and can help improve blood circulation. The fast-drying, breathable fiber structure also guarantees optimal air circulation and transports moisture away from the body, keeping the skin dry.
These new High Waist Leggings are guaranteed to be an eye-catcher whether worn in the gym or as part of your everyday wardrobe.
Size Range: 6–18. Colors: Viper Titan (new!), Orinoco
See more Anita collections in their Spotlight