Le Mystere Adds 3 Stunning Styles to their Popular SAFARI Collection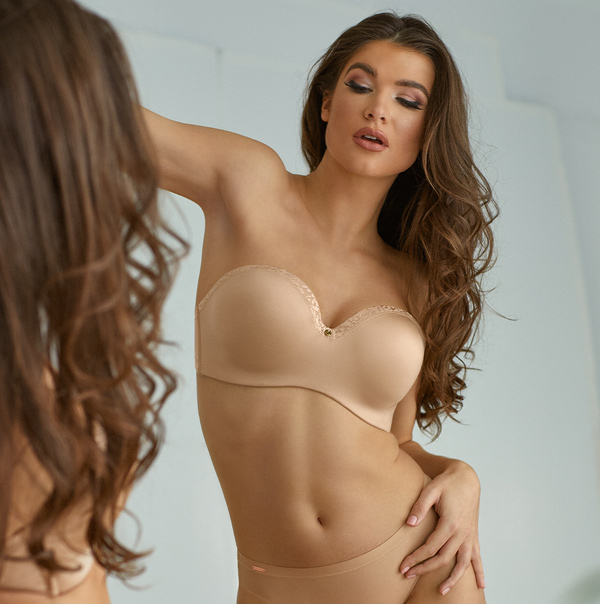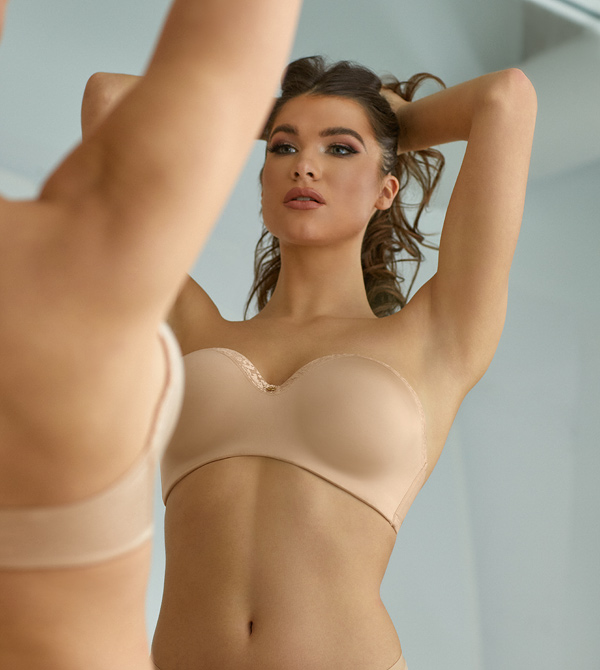 Le Mystere's Safari Smoother and T-Shirt Bras are very well known for their incredible fit and lift as well as outstanding beauty. These are the go-to bras for everyday wearability with a chic and sophisticated design. Great news – three gorgeous, NEW bra styles have now been added to Le Mystere's popular Safari collection… Strapless, Racerback & Wireless!
"For more than a decade Safari has stood the test of time as a forever favorite for women nationwide. Changing the lives of well over ½ a million women. With popularity continuing to grow (YTD we have already shipped the same qty we shipped in the entirety of last year!), we decided it was time to expand the collection and add three new stunning styles."
SAFARI STRAPLESS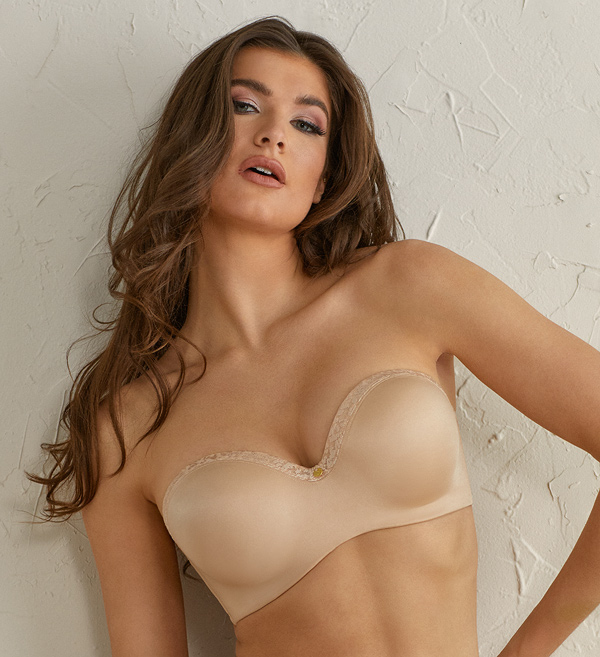 Introducing the new Safari Strapless: a sleek, 1-piece strapless which features soft, contour foam pads with a subtle lift in the bottom cup. Wrapped in our polished, satin shine microfiber and set into a hidden soft foam frame for added comfort and support. Attractive sweetheart neckline with a slight plunge is clean finished with a touch of our signature high shine Safari jacquard lace. Clean finished satin micro back wings are lined with a layer of newly sourced exposed spandex power mesh that gently grips the body for a no slip fit without the need for traditional silicone elastics. Side stay for extra support and wide hook and eye for extra back wing coverage. Removable/convertible shoulder straps can be worn in the standard position, crisscross, or strapless. Available in Black and Sahara in sizes 32-36-38 B-F & 32-36 G.
SAFARI RACERBACK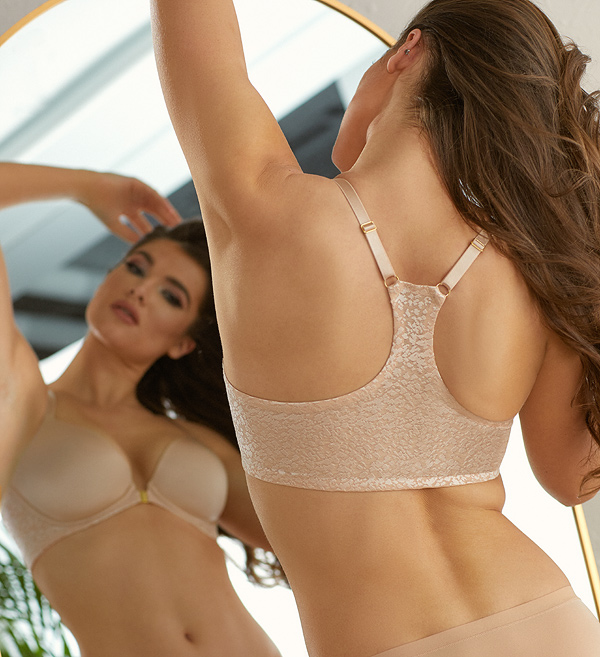 Next up is the new Safari Racerback: A contemporary front-close racerback bra with sleek, architectural detailing. Thin contour cups provide lift, shaping, and support without the bulk of traditional foam pads. Cups are compressed at the neckline and underarm edge so they are completely invisible under clothing. Plunging cup neckline gives center swell with an easy clasp metallic rose gold front closure.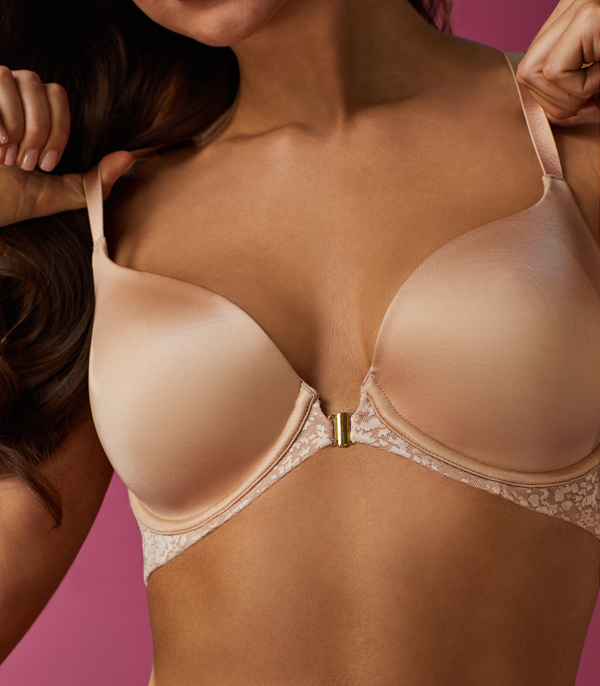 Seamlessly moulded satin shine microfiber with a polished, sophisticated look pairs beautifully with Le Mystere's signature high shine Safari jacquard lace. A light & supportive narrow frame helps anchor this bra to the body so it does not lift, a key feature in a successful front closure bra. Supportive back wings are lined with a light, breathable mesh with all elastics encased inside for comfort. Fully adjustable shoulder straps with modified stretch for extra support in the larger sizes. Available in Black and Sahara in sizes 32-36-8 B-F and 32-36 G.
SAFARI WIRELESS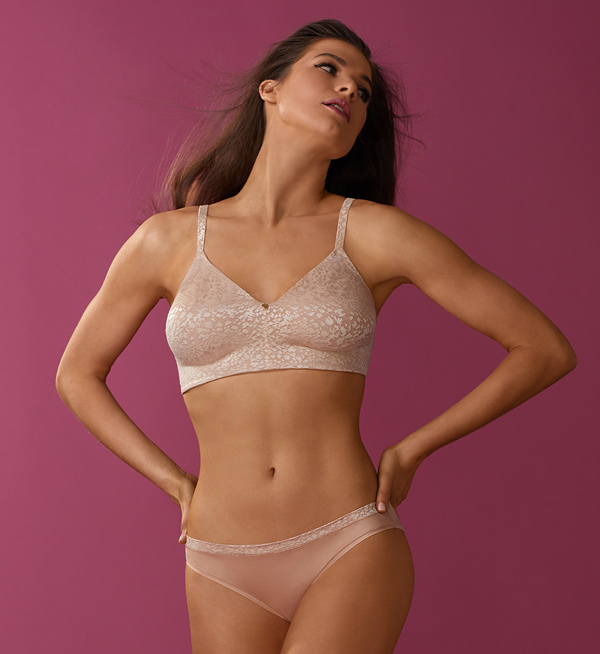 Safari Wireless: An easy wearing everyday wireless silhouette featuring our signature high shine Safari jacquard lace. Sleek 1-piece design lies undetectable under clothing. Feather light cups are engineered from a new breathable spacer fabric that seamlessly moulds to the natural shape of the body.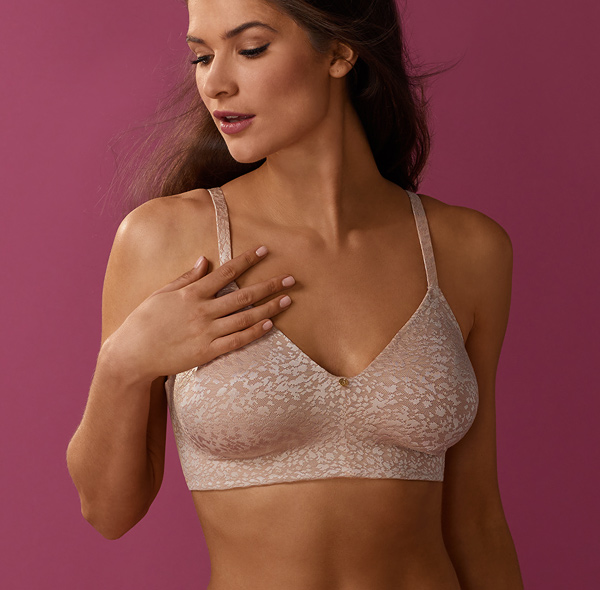 Full coverage styling and sweetheart neckline gently hugs the tissue and stretches to fit a variety of body shapes and sizes. Satin Shine microfiber creates wide, 2-ply smoothing back wings that encase all elastics for all day comfort. Built up front shoulder straps are wrapped in our signature jacquard and alleviate pressure over the shoulder. Semi-rigid adjustable back shoulder straps and easy back hook and eye closure. Available in Black and Sahara in sizes 32-36-8 B-F and 32-36 G.
See more Le Mystere collections in their Spotlight