Empreinte Showcases the Luxurious ALLURE Collection ~ New Colors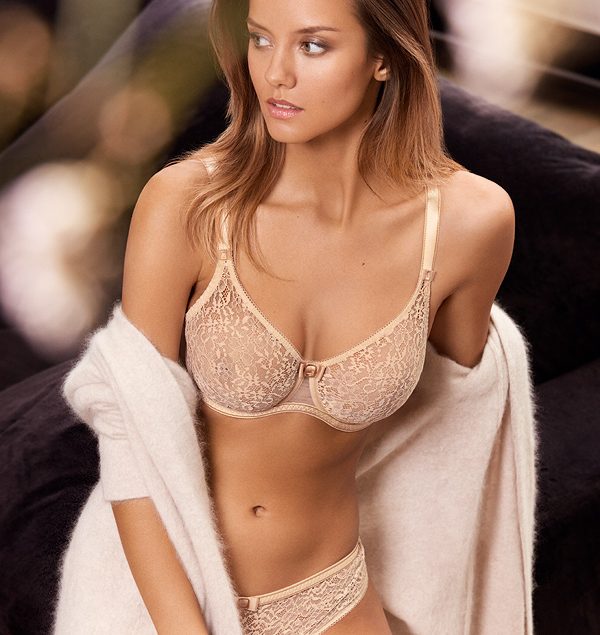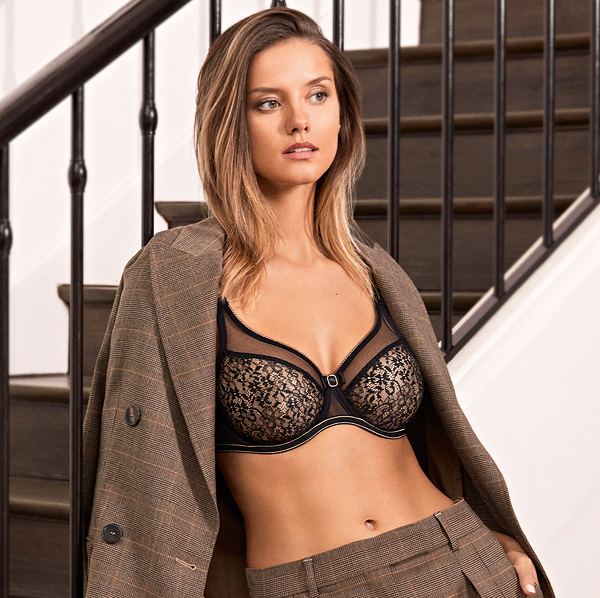 With renowned French design and exquisite details that Empreinte is so well known for, ALLURE is a chic yet sporty, glamorous collection that is now available in black and almond colorways with shimmery gold accents.
Empreinte has enriched its IN-PULSE range with Allure. A real technological feat, this collection combines emotion and innovation. Manufactured using French Leavers lace, which is the finest and most delicate in the world, Allure is designed to both look good and be comfortable. Allure illustrates the splendid combination of two areas of French expertise in honour of women who love exceptional lingerie.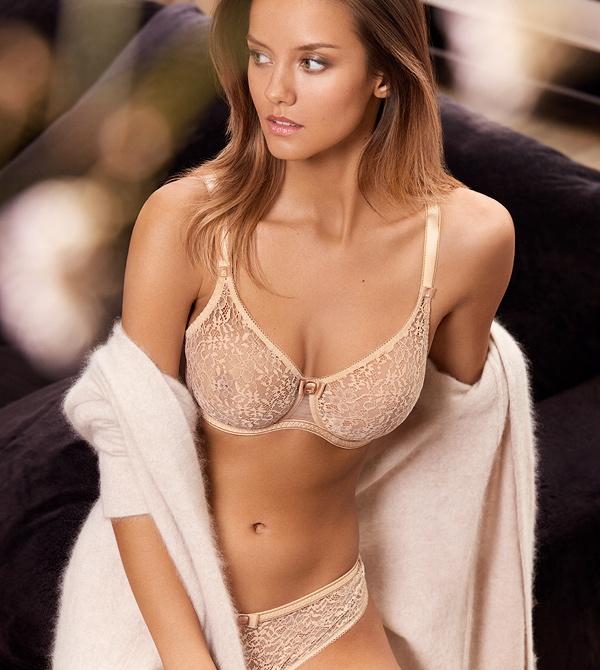 The collection includes 2 bra styles, 3 panty styles, a camisole top and a trouser.
ALLURE Invisible Full cup bra
This classic, seamless Allure Invisible Underwired Bra is a must-have in lingerie which offers perfect support with a very modern style. Its many assets will delight you: the well-centred straps which sit between the shoulders, the reassuring coverage of the cups, the elegance of the luxurious Leavers lace which provides total invisibility under clothing and the golden detailing which bestows an undeniable touch of modernity to this light Almond colourway. Available up to an H cup, this shape has become one of the brand's iconic items.
ALLURE full cup bra
The Allure underwired full cup bra is comfortable and ultra glamorous, its covering neckline allows to live all your activities of the day. The seamless cups showcase the exceptional Leavers lace whilst preserving its key characteristics of softness and delicacy. Comfort is accentuated by the work on seamless cups, the Empreinte secure fit and complete invisibility.
ALLURE Shorty, Brief & Panty
Unbelievably soft and delicately chic, Allure panties are beautifully understated with a combination of very soft fabric and the sophistication of fine Leavers lace.
ALLURE Trouser
Allure Trousers have a loose-fitting, casual cut which falls elegantly for maximum comfort. The high-quality velvet material is soft and chic. The waistband enhanced with a gem bow adds to the feminine detailing of the Allure trousers. To wear both at home and outside when some stylish comfort is required.
ALLURE Top
A key item to complete one's look. The Allure Top sparkles with golden threads and immediately immerses us into the world of sporty chic. With its generous armholes, racer back and ultra-soft lurex fabric, it can be 'underwear worn as outerwear'. It is a completely on-trend look. Associated to the trousers for a comfortable and assumed look.
See more Empreinte collections in their Spotlight