Blues and Black Make a Splash ~ New Collections from Panache Swim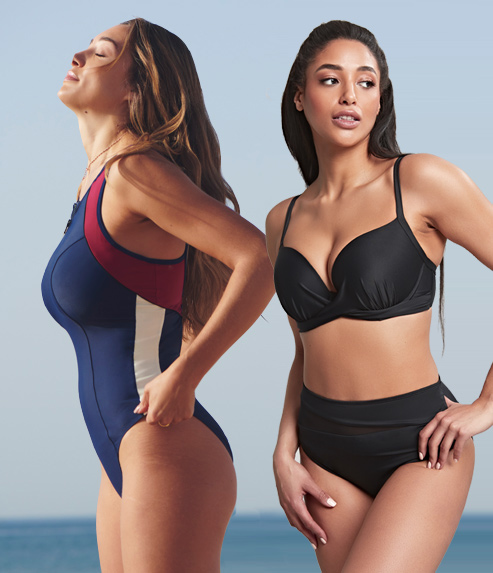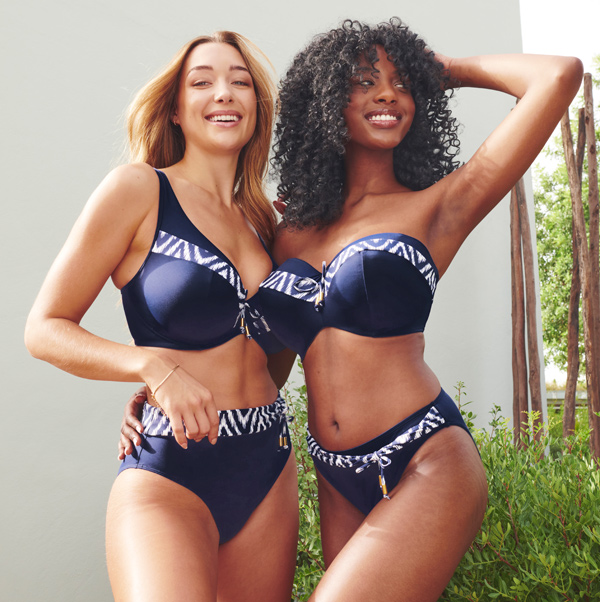 Panache has you ready to suit up for summer! Three exciting, new collections have just launched: OCEANA and LIMITLESS in on-trend navy blue and SERENITY in elegant black, you'll hit the pool or beach in refined style.
OCEANA
The stunning Oceana swim collection features nautical styling that's accented with a coordinating Ikat print. Two bikini tops to select from include Plunge Bikini, Bandeau Bikini (both shown above) and a Balconnet Tankini. All can be coordinated with the choice of  two brief styles; Classic Brief and Midi Brief which feature luxurious gold details and nautical inspired Ikat print for a showstopping look.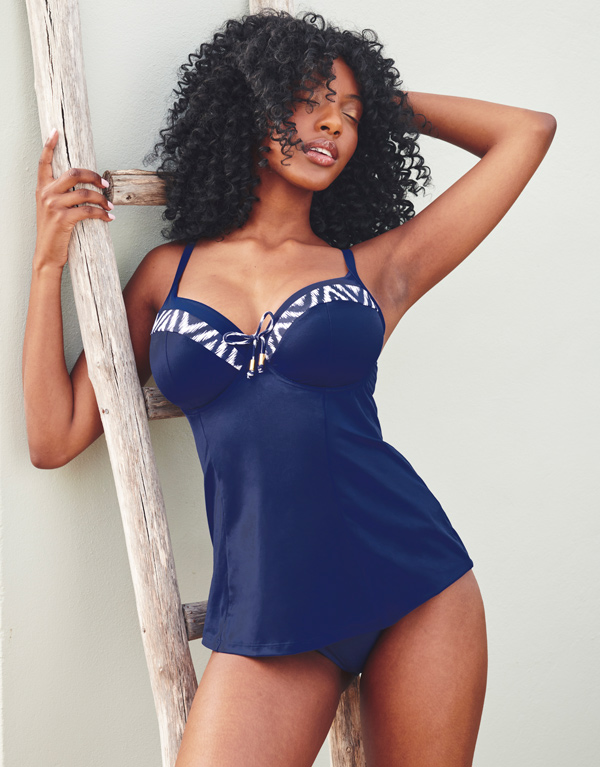 Oceana's gorgeous new A-line Tankini shape ensures a flattering fit for any wearer, no matter what your body shape. Features include 3-Piece double ply inner cups, alongside internal powermesh wings to provide ultimate comfort and support.
Plunge Bikini and Balconnet Tankini: 30 to 40, D to J cup, Bandeau Bikini: 30 to 38, D to H cup. The two matching Briefs are sized 8-20.
SERENITY
Panache Swim introduces Serenity – a classic style, that every store (and woman) needs!
Timeless Black never goes out of style. This sophisticated Noir shade makes Serenity an essential this season. In both a Plunge Bikini and Plunge Swimsuit, the Serenity range offers a versatile look paired with unmatched comfort and a flattering low cut fit; the perfect combination to achieve sophisticated glamour.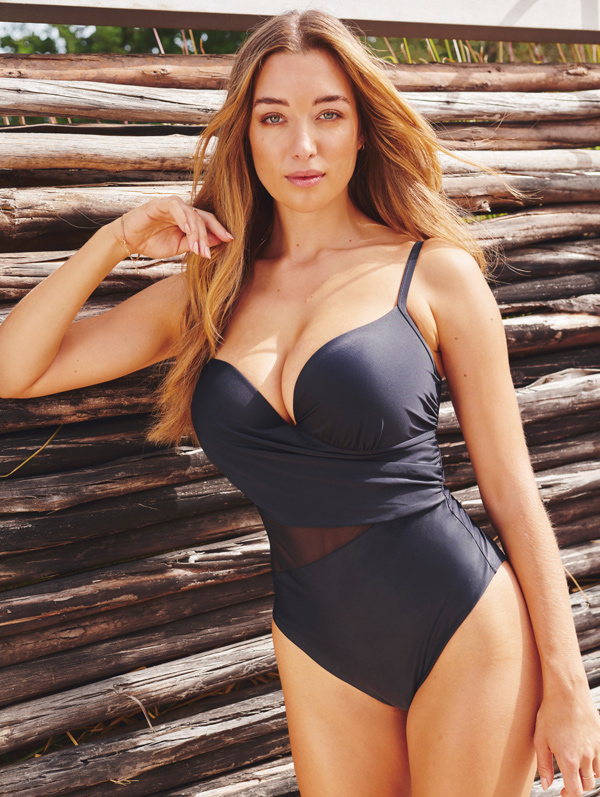 Beautiful drapes and gathers of Noir fabric create a flattering fit for every customer as well as utilising asymmetrical mesh cut outs for curve loving silhouette. As well as a glamorous look, Serenity uses UV protective and chlorine resistant fabric to ensure a premium feel and garment longevity.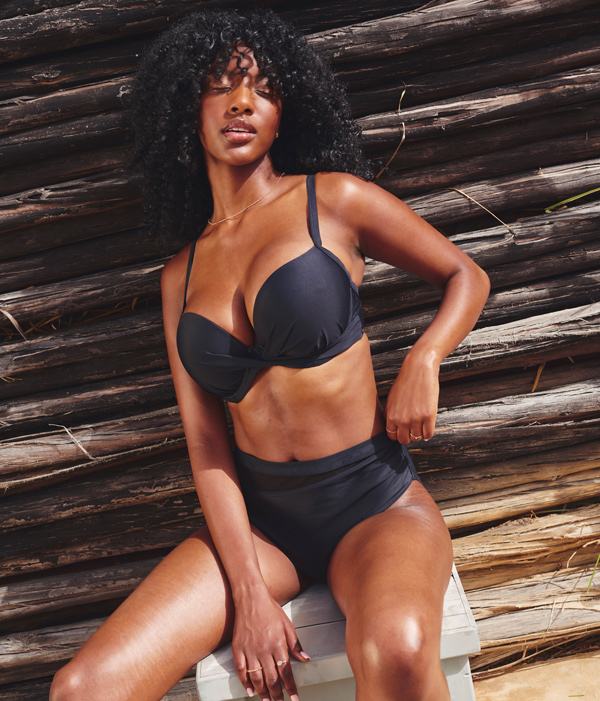 Although this range is brand new, it is based on the shape of our customer-favourite Faith range, so you can feel confident that your customers are getting the support they know and love! Both the Plunge Bikini and Swimsuit offer sophisticated glamour in 30-38, D to H cup, alongside the elegant Midi Brief that gives a flattering fit in size 8 to 20.
LIMITLESS
The sky's the limit with the new Limitless range from Panache Swim. With a super sporty aesthetic this range provides all the support needed for a host of occasions, including everyday swimming or a summer staycation trip.
Let's dive into the details of this sporty swimwear.
Limitless offers both a Balconnet Swimsuit and a Balconnet Bikini in a crop top style, with a matching High Waist High Leg Brief. Although tailored towards a sporty aesthetic, this range offers a sexy and flattering feel thanks to complimentary silhouettes, such as the High Waist High Leg Brief design and zip detailing.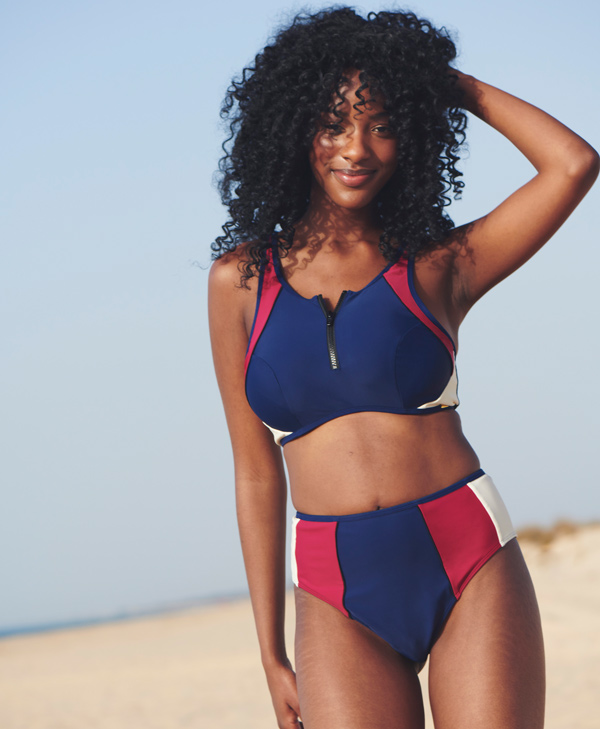 In navy along with showstopping orchid/white color blocking plus a zip detail, the standout element of Limitless is that it is available up to a K cup! Created with 3-piece inner cups that use double ply on GG+ sizes, Limitless is truly a fuller bust focused style. Do you often find customers asking for swimwear in J+ cup sizes? Then this range is perfect for you.
Keyhole openings in the back of the swimsuit and bikini enhance a sexy feel, certain to give the wearer an instant boost of confidence. Along with this back detailing, the bikini features a magnetic clasp to make putting the crop top on and off a breeze.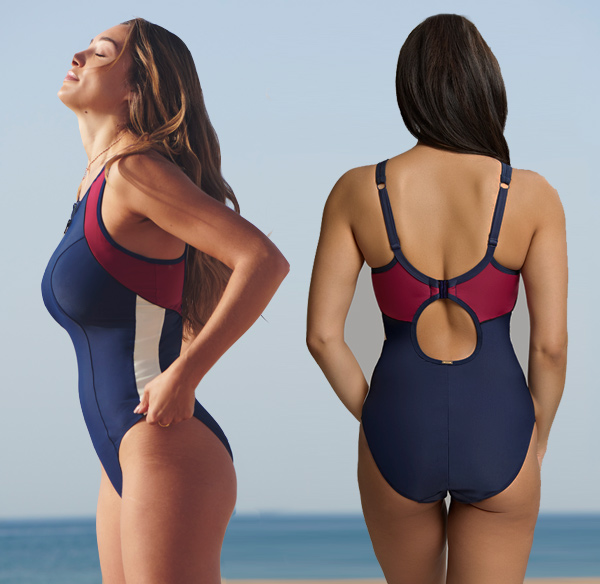 As with all of the latest Panache Swim launches, this too, uses fabric with high chlorine resistance and UV protection.
Both styles within the Limitless range offer incredible support in 30 E to K cup and 32-38 D to K cup, along with the High Waist High Leg Brief that completes this sporty look in UK size 8-20.
On the whole, the latest Panache Swim styles are not to be missed! Taking inspiration from current trends and adding a dash of luxury and great quality support. Which of these latest Panache Swim ranges are you most excited to get your hands on?
See more Panache collections in their Spotlight