Positive Vibes ~ CURVE NY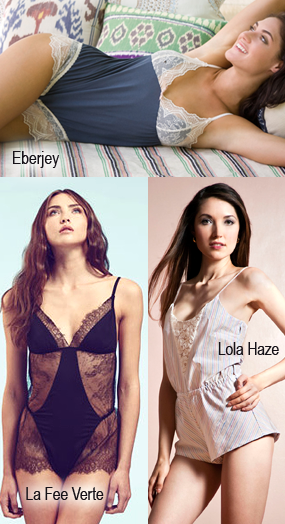 We are all feeling the throwback of the current state of politics in the USA.  It doesn't matter what side you're on, it's frustrating.  Just when the economy seems to be crawling back from the brink, we get front ended by partisan rancor.  So, frankly, for me, the CurveNY show held at the Javits Center last week was a welcome respite.  Not only was it an escape from the onslaught of nefarious media, but it was an opportunity to focus on a potentially uplifting future.   Since my modus operandi is to dig deep to retrieve the most important intelligence, I was most pleased by the upbeat themes promising cheerier days for spring 2012.  There were a plethora of trends but two kept surfacing in a sea of products: The COLOR CORAL and the PLAYFUL ROMPER.  Brands across the aisle managed to zero in on these two messages to make a cohesive intimate fashion statement:  We need to energize our base, find joy in our lives and remember the pleasure of having fun.
I could list countless collections that embraced these trends and certainly the arrival of European brands like Sybaris, Damaris, and Mimi Holliday continued their liberal sway with these matters, but it was our Intimate base, the established bra lines that broke out of their comfort zone to join the party.  The tried and true Andora in clementine from Simone Perele and Panache's Tango in tutti-frutti competed admirably with the addition of the  Drama Queen push up in orange sorbet  from b.tempt'd; each one espousing the message of positive energy in a delicious shade of  coral.  This story extended to silhouette as the flirtatious romper went from a fringe body to a line mainstay in many collections.  Early entries to the romper party, Eberjey, Lola Haze and La Fee Verte were clear front runners on this lingerie story.   Casual knits, classy wovens or sexy delicates, all three brands have validated their proprietary positions on this cheeky design.  This was a big show, with a lot of new ideas, but we can't be all things to all people.  We need to pick and choose our priorities.  I elect positive energy as my strategy.
.
.
"I am an optimist.  It does not seem too much use being anything else."             ~Winston Churchill
Tweet-Fest Quiz: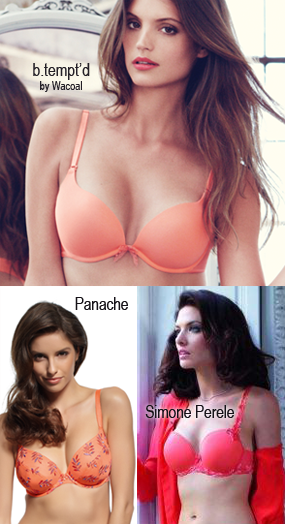 Answer 10 questions to qualify
Whose cabana cottons are blowing out of stores?
What brand was just launched by Carole Hochman?
Who just launched a lace racer back bra?
What Sports bra brand is offering sizes 28AA to 44H?
What bestselling  10 color print is Betsey Johnson offering?
Whose sexy underpinnings from Europe did I mention?
What German shapewear company is offering both a silk and angora blend fabric?
What colors is Jenna Leigh's best-selling Malawi collection coming in for Spring?
Which Intimate brand launched swimwear with the starboard print?
What key silhouette is Midnight by Carole Hochman offering in many groups?
Which Columbian brand is offering hand dyed and hand cut panties?
What silhouette is being offered from Fleur of England for the first time?
Which bra brand offers fashion fun up to H cups ?
What new print did Dumi Shapewear offer?
Which European brand promotes "color, color, color"?
What panty styles did Salua offer in cotton?
What key item did P.J. Salvage offer?
Who did I cite as the one stop strapless wardrobe brand?
What hosiery brand showed leg layering?
Whose luxury sleepwear did I mention from England?
Who offered panties with a hidden pocket?
What brand won the prestigious innovation award at the Paris show?
Which London based retro brand debuted at Curve?
Which brand did I call the jewel in the crown?
Who showed pure pima cotton intimates?
CORRECTLY answer 10 questions and be entered to win $100+ prize from Fleur't! Random drawing held 8/15.
Simply email your name and answers to: ellen@lingeriebriefs.com
.