BRIEF ALERT! Red Daisy
This Week's Intimate Discovery: An Inspirational Brand Debuts in the Intimate Active-wear.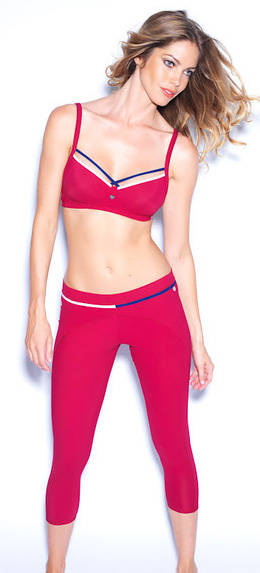 My discovery of Red Daisy™, the nascent intimate

active brand, is more than a mere coincidence during this month's highlight on Breast Cancer.  This sophisticated sports collection, conceived by Phylise Sands in honor of both her sister and mother's fight against this debilitating disease, is dedicated to funding research 365 days a year to this ongoing battle.  Launching at retail this December, it will donate 10% of every Red Daisy™ bra sold to the Breast Cancer Research Foundation®.  Channeling a NY state of mind, Red Daisy™ bras and coordinates are designed with a modern perspective demanding results with a sophisticated style.  Constructed in Eurojersey's patented Sensitive® fabric, they move seamlessly in and outside the sports arena challenging this category's status quo. Taking her mission to the mat, Phylise has made a full out commitment to win.
.
"Never, Never, Never Give Up"                                     . . . Winston Churchill
.
inquiries: Phylise@Red-Daisy.com
.
.
.
BRIEF UPDATE: As I am in Los Angeles this week and was unable to attend Hanky Panky's "Anna-ver-Sui" Celebration of the 25th anniversary of the original thong that took place in downtown NYC this past Tuesday evening at "91";  I asked my colleague Moira Nelson for an on site report.  She advises that it was a huge success heralding the company's newest launch, a  limited edition collection developed in collaboration with designer Anna Sui and which features the "Anna-ver-Sui" floral print.  Sales of this collection will benefit Fashion Targets Breast Cancer.  

To read the full story, log on to Moira Nelson's Blog www.BraLaMode.com.
.
.
.
..
.