BRIEF ALERT! Flirt Boutique
This Week's Intimate Discovery:  Savvy Midwest Shop Zeros in on Soft Cup Bras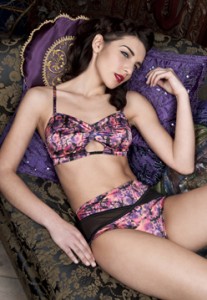 I had a great discussion with Jessica Gerard,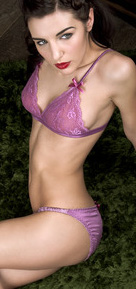 owner of Flirt Boutique in St. Paul, Minnesota yesterday.  She emailed me to report the surge in her soft cup bra business.  She says that every new soft cup bra she receives "comes in and is gone".  Sales of this category have escalated from 4 a month to 4 a week.  Flirt is a haven for those ladies with a pin up aesthetic. The shop stocks many sizes but, it's the A cup customer looking for pretty, feminine, soft underpinnings that are not enhanced with padding and feel like a "prosthetic" that are coming in from the cold. These women want to look and feel sexy with their natural shapes She continues to sell Eberjey, Hanky Panky and Cosabella, but has now focused on gorgeous styles she discovered at Curve, including Playful Promises, Sexy Panties and Naughty Knickers, and O.E. from Paris. She also mentioned Rosie and Lisa's Folly.  One thing for sure, Flirt Boutique is listening to their customers.  I call this excellent merchandising.
.
.
"Customers Buy For Their Reasons, Not Yours" . . .   Orvel Ray Wilson
inquiries:  flirtboutique@gmail.com
.
Note: Speaking of fabulous soft bras (and other gorgeous lingerie) Fleur of England is offering a contest that is right up my alley, "The lost art of Love Letters". To celebrate the arrival of their new Darling Collection, they invite you to rediscover poetry and prose.  Forget texts and tweets and write a love letter to your darling to win ₤500 of lingerie.  There are only a few days left to participate. Click  to learn how: