I Love LOLA ~ Contest!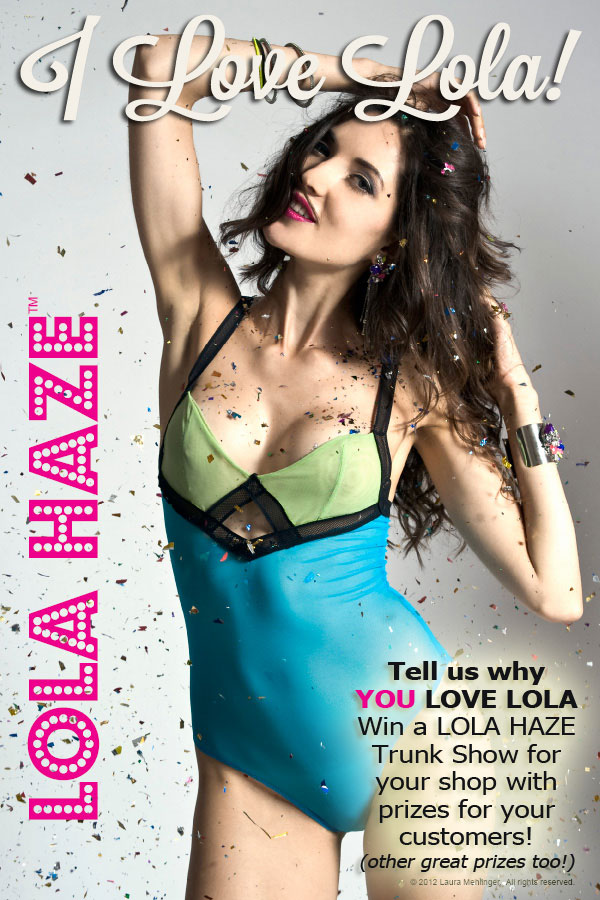 Everyone Loves LOLA!
If you have a fashion, apparel, lingerie or adult retail shop in the USA you're eligible to WIN a fabulous on-location TRUNK SHOW featuring the exciting lingerie line Lola Haze™ PLUS special raffle items to be awarded to your customers! Other prizes include free $100 worth of free Lola Haze merchandise with your next order!
Simply FILL OUT THE FORM BELOW, tell us why
"I LOVE LOLA" and include your contact info. Additional Entry points for 'Liking Lola' on Facebook and Tweet: #ILoveLola at @LolaHazeNYC and #ILoveLola at @LingerieBriefs
Drawing will be held the week of July 22nd and we'll let you know if you've won!
Produced with love in New York City, Lola Haze™ playwear is for every woman who likes to play in and out of the bedroom. She is a seductress, dressing for herself, with a bold, whimsical fashion sensibility. Not just for the boudoir, she takes Lola out on the town as a layering piece or stand-alone fashion statement. Lola Haze™, takes inspiration from everything from New York City and Prince to art deco architecture and influences across the globe, all of which are infused into the line's intricate detailing and innovative color and fabric combinations. Every woman with eclectic taste and a love of bold glamour will love Lola.
Designer Laura Mehlinger has been studying, designing and making clothing since the time she could hold a needle. Laura received her BA from Harvard in English, where she was called "Harvard's Ace Student of Fashion" by the Boston Globe for creating and showing her own line of women's wear in the only one-person fashion show there in memory. After holding design positions at Gap, Inc, Laura decided to go out on her own. She named her line after the title character in the novel Lolita, which she wrote her thesis about and which continues to intrigue and inspire her. On a year-long solo trip around the world Laura collected exotic objects, fabrics, and stories. These inspiring visuals coupled with the ideas of difference, quirkiness, and elements of surprise are driven into her designs.

SIMPLY FILL OUT THE ENTRY FORM BELOW FOR YOUR CHANCE TO WIN!!  (See extra entry points for tweeting & FB)