Sneak Preview of Katherine Hamilton's Abrielle SS20 Collection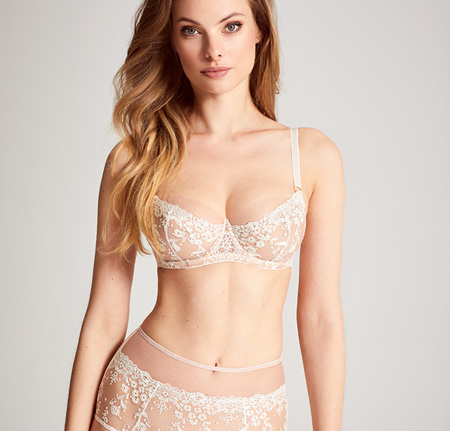 The latest sneak preview of the Katherine Hamilton SS20 collection features the ground-breaking Abrielle style.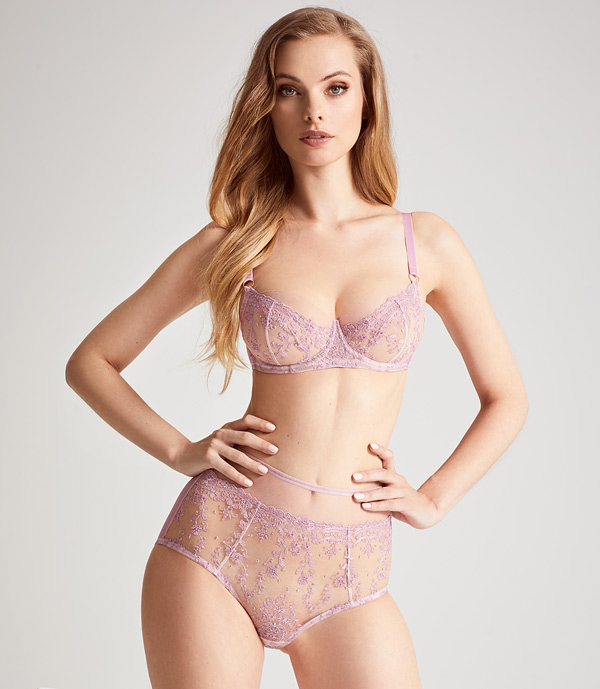 Introduced for AW19, this innovative style has already been a hit with buyers, so much so that is now part of Katherine Hamilton's permanent collection.
Abrielle is the first style from Katherine Hamilton to create the appearance of a dainty 2 piece cup style and perfect for women who want a shallower style that still offers firm support. Its signature feature is its custom designed intricate French floral embroidery that creates a highly sought after and simply stunning tattoo affect. This is combined with an invisible rigid tulle cup lining to ensure strong support and shaping without compromising the delicate, seductive aesthetic.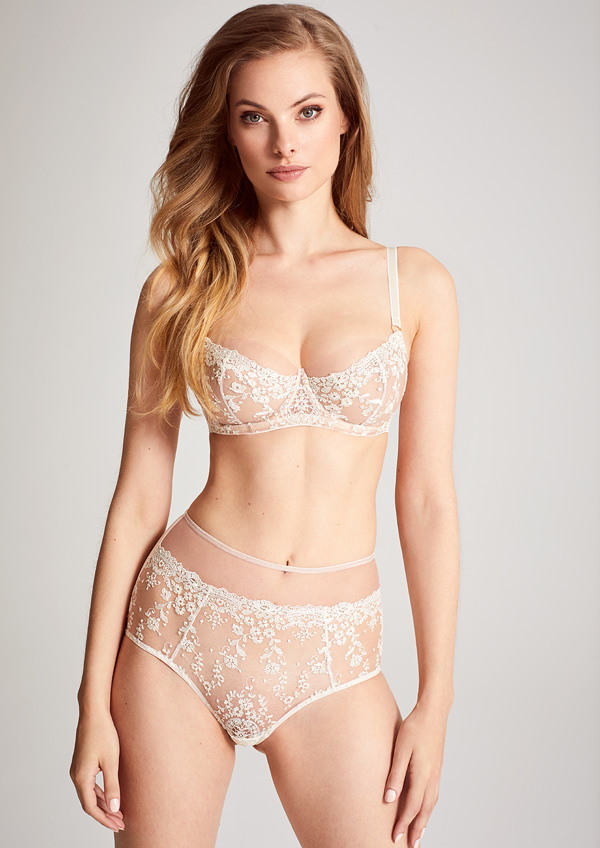 The Abrielle bra was first launched in black, blue and plum exclusively available in Harrods for AW19 and has proved a hit for Xmas collections. These colours continue to be available and due to Abrielle's popularity, the colour palette has been expanded. From SS20, Abrielle will be available for the first time in a beautiful rose gold and a flattering chalk shade – both ideal for the Spring and perfect alternatives to a classic flesh tone for everyday wear. The bra features Katherine Hamilton's trademark patented underwires, created specifically to give the perfect fit for women with narrower backs and fuller busts and comes with beautiful accessories -a knicker, thong and of course an uber- glamorous suspender belt! What's more, all briefs now have a new seamless finish for maximum wearability.
Available in a whopping 54 sizes from 26-36, D-HH, Abrielle is available to order now.
Look out for Katherine Hamilton's final SS20 preview – coming soon!
Also see her spectacular SS20 Mariella Collection.