Shadowline's Hollywood Boudoir Gowns ~ Now in Silver!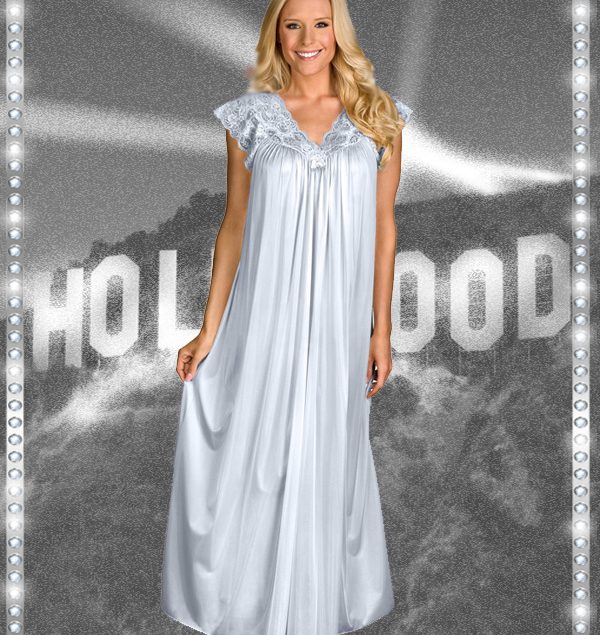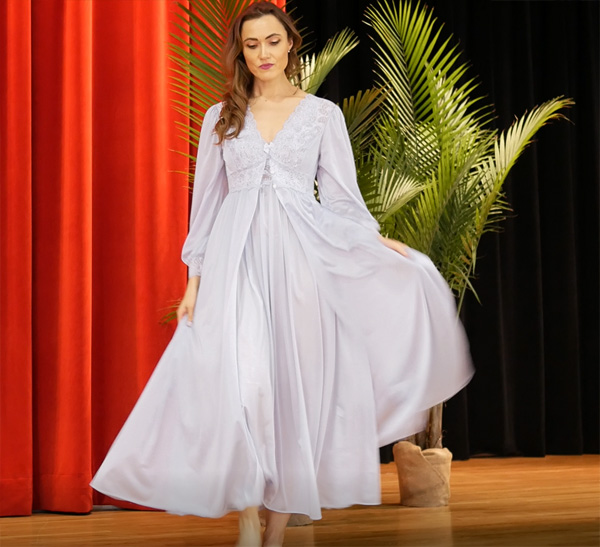 Look like you walked right off the silver screen and on to the red carpet in Shadowline's glamorous nightgowns, now in silver hues. The Hollywood vintage look is back in vogue and Shadowline has been steadily delivering this styling for decades. Silver is the perfect neutral and Shadowline has just debuted many of their silky collections in this sophisticated, silver colored fabric.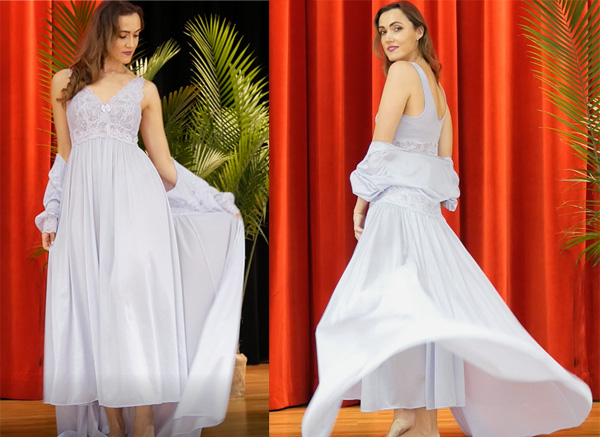 Feel like the star you are in Shadowline's Silhouette Collection Peignoir set. This luxurious ensemble is known for its flattering design in soft silky Satintrique® nylon tricot. The nightgown features a sleeveless European stretch lace bodice with spandex back, scalloped v-neck and flowing nylon skirt. The center front is accented with a delicate satin bow and pearls. The gorgeous, flowy robe has a 3-button front closure with a flowing nylon skirt and European stretch lace bodice and cuffs. Debuting in silver, it's also available in 7 additional colors in sizes S-3X. Each piece can be purchased separately or as a set. A wonderful gift for the bride to be as well!
"I bought the gown and robe set for my wedding. It is GORGEOUS. Perfect fit, romantic sweep and cut low enough to be seductive yet demure. I love it and can't wait to wear it. Thank you Shadowline!! Great products and beautiful styles."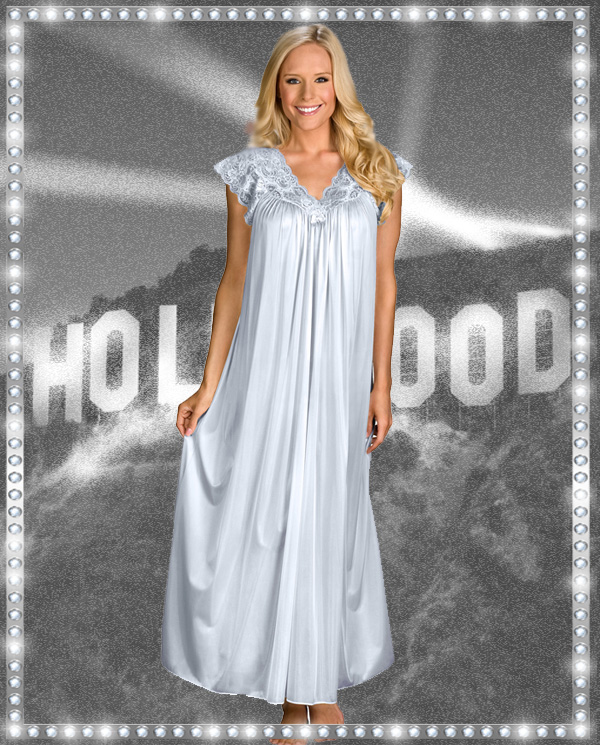 Shadowline's Long Lace Cap Sleeve Nightgown is a cinematic dream and top seller! This figure flattering vintage style is popular among all age groups. The long, feminine gown in silky Satintrique® nylon tricot has European stretch lace cap sleeves with beautiful floral lace across the shoulders and neckline. Gentle gathers flow down the full length of the flirty nylon skirt . Sized S-3X in 8 pretty colors including this new silver hue.
"This is the most comfortable nightgown I have ever worn. Lightweight, non binding at the arms or shoulders when sleeping, flattering yet not transparent, it's the gown I reach for from a drawer full of options. Pure bliss in the bedroom!" Cynthia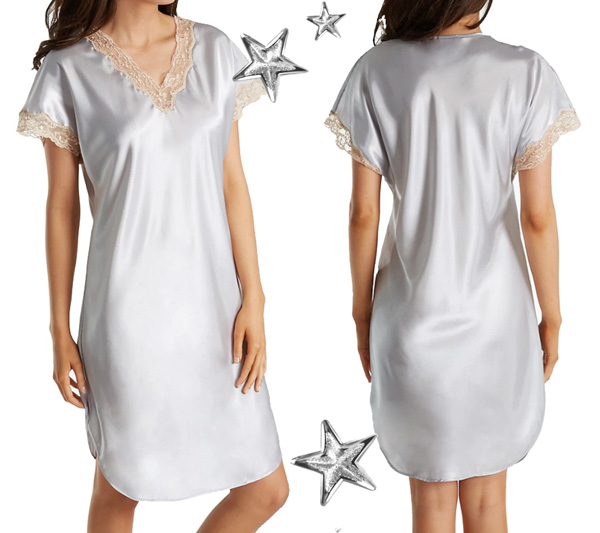 Take Tinsel Town by storm in the Shadowline® Vintage Lace Trim Sleepshirt. Part of the Charming collection, this short sleeve nightshirt with vintage embroidered lace trim is sleek, elegant and oh so comfortable. Made with Polyester Satin Charmeuse in 7 rich colors, sizes S-3XL.
"I gave this to my daughter and she loves it. The satin fabric has beautiful drape and the knee length suits her to a tee. Thank you for another lovely gown perfect for women of all ages!"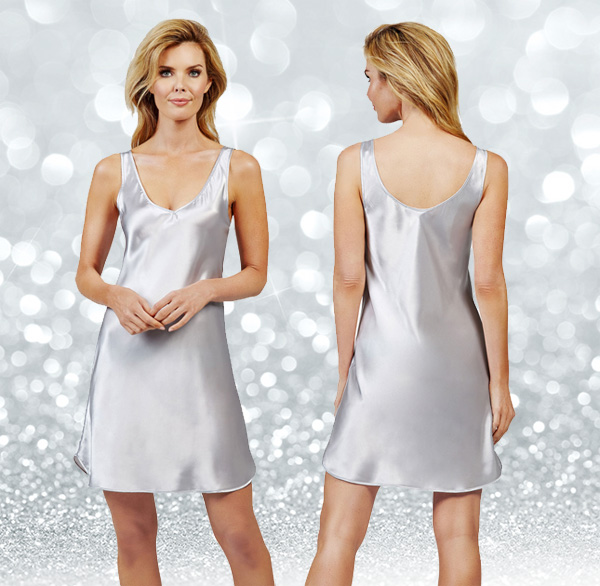 For a more modern Hollywood glam look – Shadowline introduces their Satin Essentials Wide Strap Chemise in silver. Fabulous features include a reversible V or scoop neck and the bias-cut satin provides stretch and fluid drape for a flattering fit. Also in the collection is an adjustable thin strap version. Available in Silver, Taupe and Black. Sizes S-XL.
"Lovely! Well made quality material, true to size." Robyn
Other Shadowline garments now offered in silver include Pajama Pants, Twilight Short PJ set, Twilight Waltz Gown, a Wide-strap Camisole, Half slip and more! All their signature fabric is manufactured in the USA.
Make all your Hollywood boudoir dreams come true with a little help from Shadowline!
In case you missed it, see Shadowline's Ode to Granny Panties.