P.J. Harlow Cozy Sweats ~ A Perfect Comfort Solution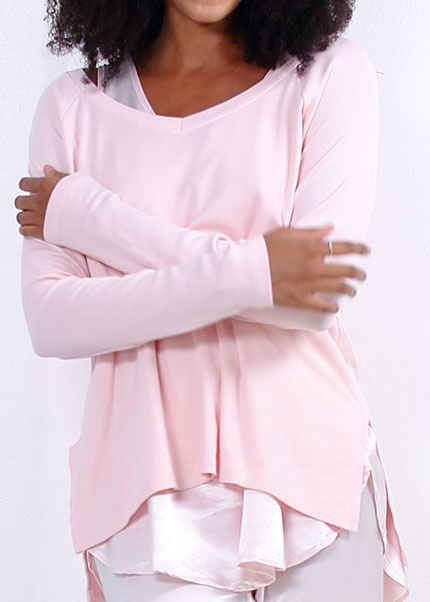 By ELLEN LEWIS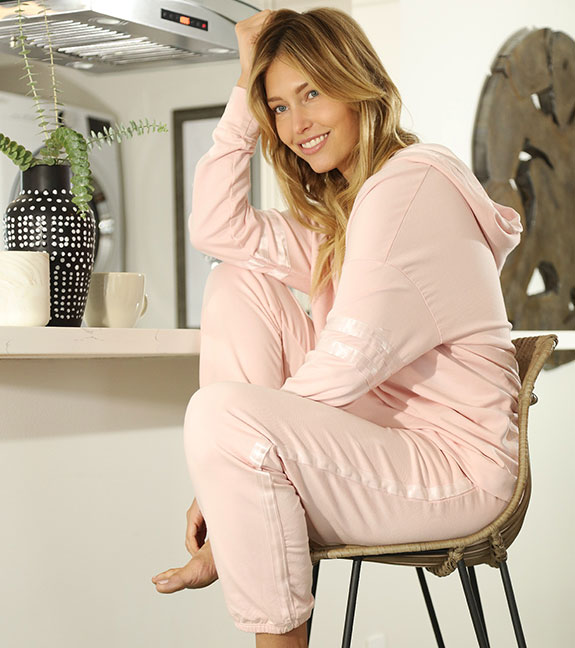 Destiny Top and Blair Pant in French Terry
I discovered the P.J. Harlow brand some years ago at Curve Las Vegas. It was right after the 2008 economic implosion and I was at the show directing a seminar on "Navigating the Storm". Brands and stores were looking for paths to profitability in a particularly difficult market. So, it was very serendipitous that I happened upon the P.J.Harlow  booth and found an assortment of supremely soft and elegant loungewear. A series of t-stands, each one harboring a different color of the same dyed to match combination of carefully edited pieces, was a dramatic statement to the merchandising credo upon which I was raised: key item intensification. At the time there was probably a maximum of 10 shapes offered in a multitude of colors.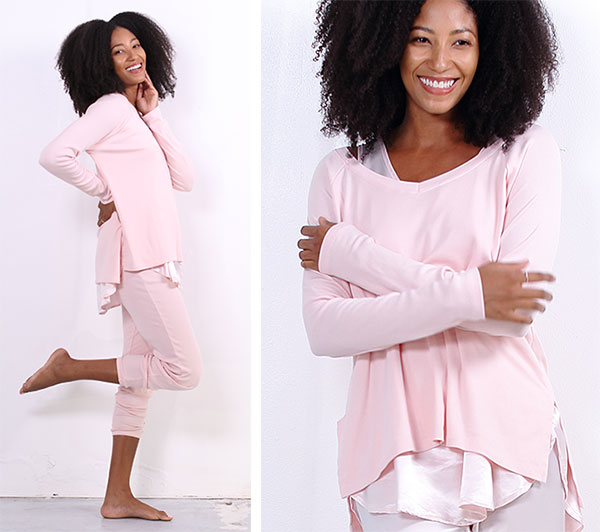 Frankie Top & Dena Pant in French Terry over Jackie Satin Faille Top
Flash forward 10+ years and we find ourselves in another economic debacle. P.J. Harlow, which has grown exponentially, again provides a product solution for the moment.  True to its mandate of producing affordable luxury, founder Tina McMillan continues to integrate easy shapes into the mix. P.J. Harlow has recently introduced its Cozy Sweats Collection, 10 new designs with a sporty twist. A super soft fabric, Supima cotton and Micro modal French terry is coordinated with the best-selling satin faille bottoms.  Available in 11 colors from sizes XS to XL, they are a perfect wardrobe solution to these changing times.  The retailer reaction has been amazing, from specialty stores, spas and retail bastions such as Neiman Marcus. And although the brand is no longer being orchestrated from founder Tina McMillan's California garage, it is still proudly manufactured in the USA.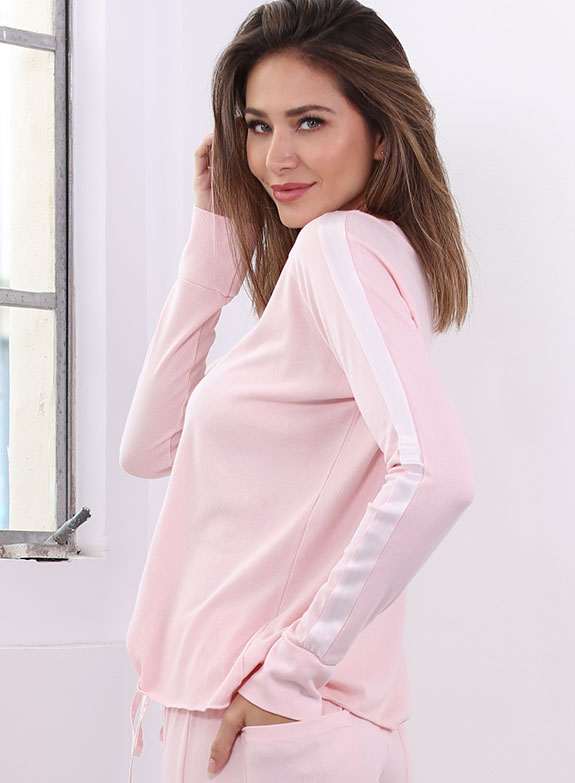 Gaby 2X1 Rib Knit Top with Satin Details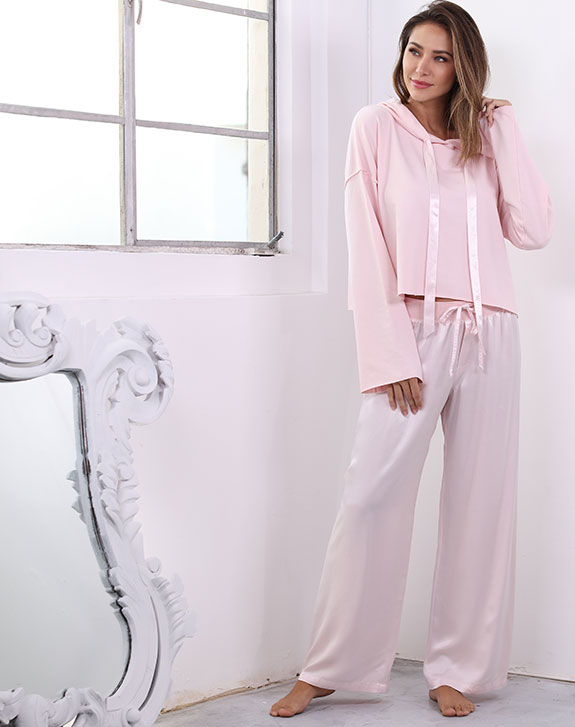 Bianca French Terry Top with Jolie Satin Faille Pant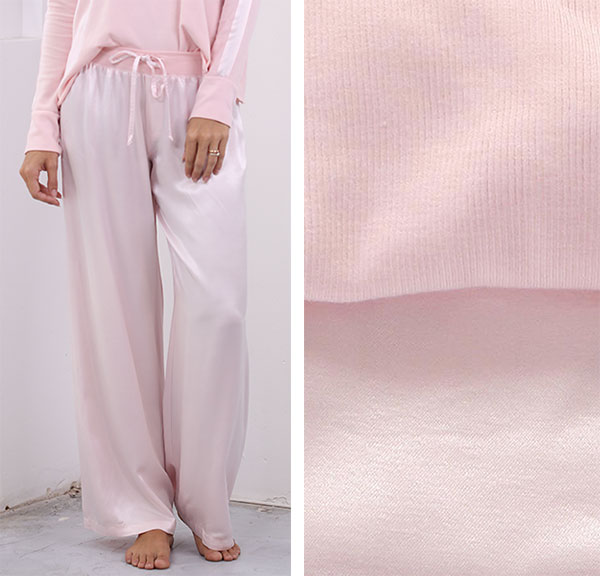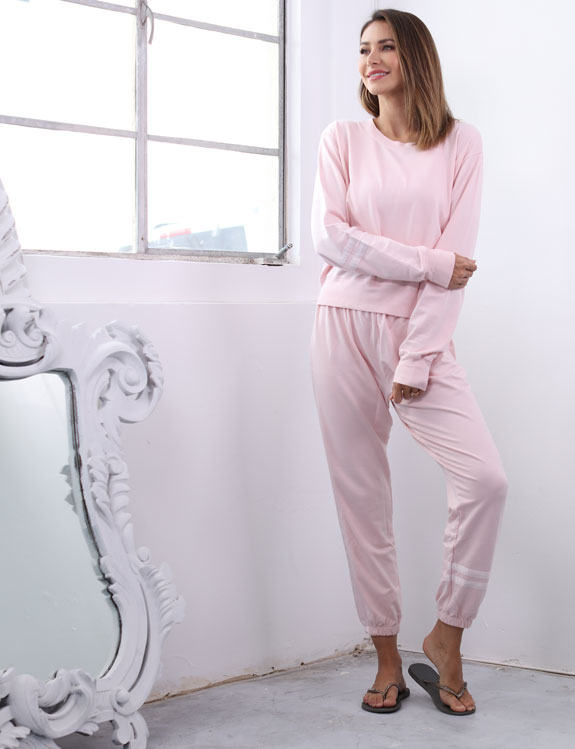 Sammy Top and Bethany Pant in French Terry