Petite, Yet Mighty ~ The Little Bra Company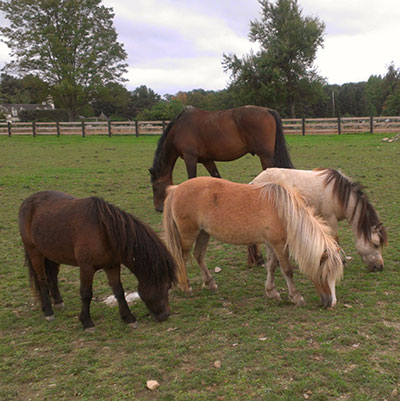 Meet Godiva, Irish and Bandit, three miniature horses that live the life of riley at the Therapeutic Equestrian Center in Cold Spring, NY where I volunteer to assist people with special needs.  They might look pint sized but believe me they have huge personalities, with no idea that they are ¼ the size of pasture mate, Otto.  I have nicknamed them my little mini coopers because they are as adorable as my beloved sports coupe, with similar attitude and high powered performance.  Even though we cannot use them for lessons on the clients who frequent the barn, they are valuable members of  TEC's population; because a large part of equine therapy is based on hands on interaction with the animals.   As you might imagine, these three are less intimidating. Maybe they are small in stature, but their spunky charm performs an outsize benefit for a very important and often neglected segment of our society.
This is exactly why I find The Little Bra Company such an important member of the Lingerie stable.  Founder Emily Lau launched the brand in 2007 in order to service an important and often ignored niche in the market, the "petite" woman.   I have been following her success, ever since, as she produces bras aimed at providing ladies of a smaller stature, just a little bit more oomph. I am particularly intrigued by this Elizabeth racer back sports bra, designed to give a woman the support necessary for an active lifestyle. Engineered with structural seaming and light padding that actually enhances a smaller silhouette, it fits sizes 28-38, A-C cups. And serves a multi-faceted function of providing a sexy and feminine appeal even beyond the gym.  Guess what they say is true:
"Good Things Come In Small Packages"   Proverbs
Available At: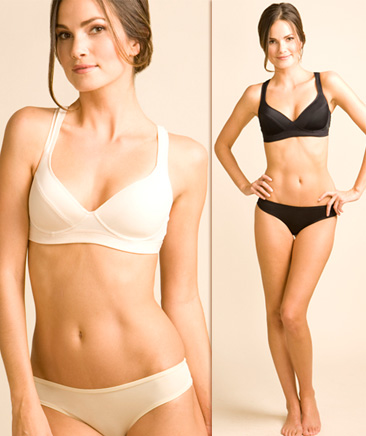 A La Folie:  Oakland, CA
A Perfect Fit:  Tustin, CA
Faire Frou Frou:  Studio City, CA
Footsie:  Santa Monica, CA
Lucy B's:  Long Beach, CA
Lulu's:  Manhattan Beach, CA
My Boudoir:  San Francisco, CA
Toujours:  San Francisco, CA
Allure:  Honolulu, HI
Bra Genie:  Mandeville,  LA
House of Lounge:  New Orleans, LA
Forty Winks:  Cambridge, MA
Bardot Lingerie:  Milburn, NJ
Bry Smyth:  New York, NY
Linda's Bra Salon:  New York, NY
Pretty You Boutique:  Kaysville, UT
Trousseau:  Vienna, VA
Linea Intima:  Toronto, ON
Nectar Lingerie:  Fort Langley, BC
The Bra Lounge:  Red Deer, AB
.
. 

READ LINGERIE THAT LINGERS:  "Flashback~Flashforward"  by Layla L'Obatti

READ INTIMATE AFFAIRS: "Intimate Insider News" by Moira Nelson

READ LINGERIE WITH A CONSCIENCE: "Kindness Inspires Creativity" by Jacalyn Bennett

READ INTIMATE INNOVATIONS: "The Bottom Line ~ Underwear Innovations" by Ali Cudby