Why Shadowline Panties Routinely Earn 5-Stars from Consumers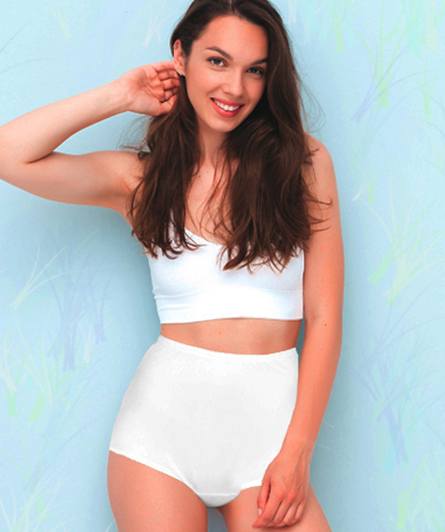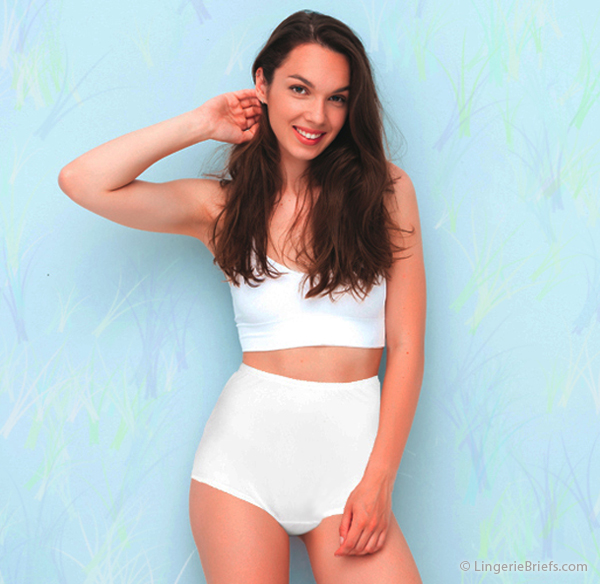 Perhaps your mother… and her mother wore Shadowline's Full Briefs, then you were introduced and now also love them! It's a 108-year-old success story that sees no end in sight. Full briefs, affectionally known as 'granny panties' continue to gain popularity across all age groups and genders. What makes Shadowline a standout in this category is not only their longevity, but their attention to high quality manufacturing and the unique, nylon fabrics they use.  The pricing is lauded as very reasonable and their sizing is spot on. In addition, the elastic trim used on all Shadowline panties is latex-free. Over the years, new styles, colors and (USA) fabrics, including cotton have been introduced by the brand to give customers a wonderful variety of panty choices.
When asked to rank Shadowline's panty best-sellers, Laurie Fisher, Director of Sales shared…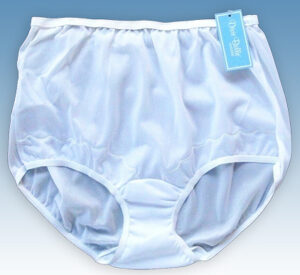 "Our overall number 1 best-seller is the Dixie Belle® Scallop Trim Full Panty, which Lingerie Briefs wrote about when we first acquired the brand. The appeal for this 5-star style has been incredible!  Offered in sizes 5-15, this panty represented 56% of our underwear sales last year! Our manufacturing has been at full throttle to keep up with the considerable store demand."
"I have been wearing the Dixie Belle Scallop Trim Full brief for years!  I just love them. There's nothing else even close to these. 5-STARS!"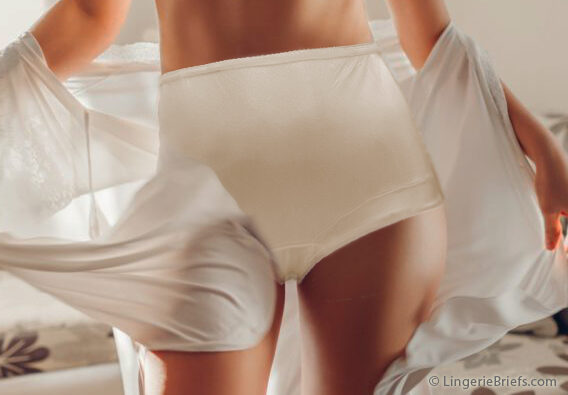 "★★★★★ Dixie Belle has been my choice for at least 35 years. I have never found any with better quality or as long lasting than these."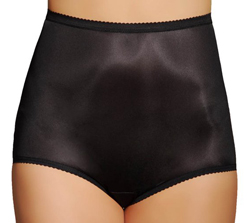 #2 top seller is the Shadowline Nylon Full Coverage Brief (style 17042 – also shown at top).
"Our specialty shops are delighted with the popularity of this comfortable, moderately priced brief in their stores… re-orders are thru the roof. This panty is a classic, it sits at the natural waist for a full coverage fit. It's silky smooth with our 100% Satintrique® Nylon plus it has an all-cotton gusset, and features a no-pinch Picot edge elastic. It's a lovely panty."
"Shadowline nylon briefs are simply the best fitting and most comfortable panty on the market. I have worn these since my mid-20s. This is the only panty I will ever buy!"
Male customers love wearing these briefs too. "These panties are the best. You don't even know you're wearing them they are so soft. I would recommend that ever guy try these. Once you put them on you will love them." Paul
The 3rd top-selling panty for Shadowline is the 'barely there feeling' Spandex Full Brief (#17005).

Laurie commented that "Many retailers are happily having to reorder this traditional full-cut brief every month! Designed for maximum coverage and a very comfortable fit, the blended nylon/spandex fabric provides an unrestricted, barely there feel. It's become a big hit with expecting moms who enjoy that extra little stretch with no pinching… everyone from teenagers to grandmas who try them adore them! We've had to ramp up our manufacturing on this style!"
"★★★★★ Absolutely love these panties! I bought them when I was pregnant and still wear them years later because they are sooo comfortable!"
"Perfect fit, no riding up or binding, no panty line…cool in summer. And the price is excellent for the value!"
A recent addition that's rapidly gaining in popularity is Shadowline's Satintrique® Lace Trim Hipster!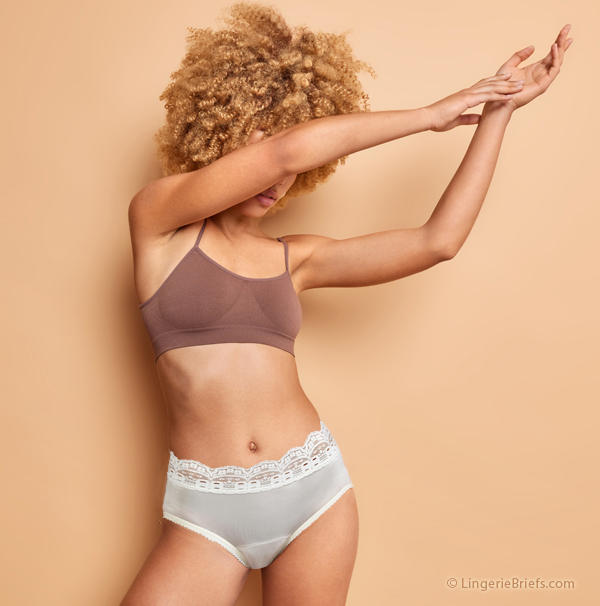 "We wanted to give our customers the choice of a flattering, lacy look with traditional styling, so we designed the Lace Trim Hipster (#11099). Elegant, 2-1/2″ stretch lace at the waist eliminates all panty lines and the contour rear seam provides exceptional fit. With lightweight, smooth fabric, this shapely women's lace underwear enhances all body types and provides a perfect fit under pants. This Hipster is quickly rising to be one of Shadowline's shining stars!"
Laurie added, "I was recently taking an order from Brenda Meadows, owner of The Lingerie Shoppe in Alabama and here's what she had to say about our Lace Trim Hipster…"
"I believe many people think of Shadowline as only having 'granny panties' – however, this beautiful Hipster certainly isn't! My customers love the brand (and the full-briefs), but wanted a comfortable version in a lower rise. This panty is so pretty and just perfect for my customers that don't want to wear thongs, boy shorts or bikinis – this Lace Trim Hipster has been a big seller for us. Thank you!"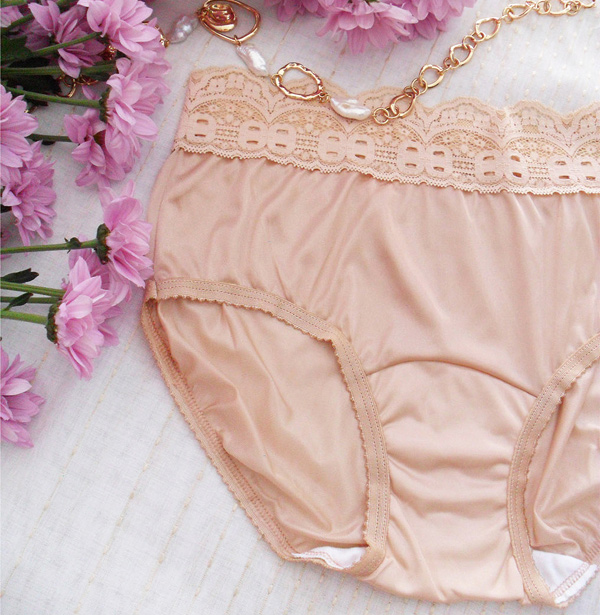 Check out Shadowline's entire Panty Collection including Full Briefs, Modern Briefs, High Cut and Hipsters.
See more Shadowline Collections including sleepwear in their Spotlight
Photo credits: EstyLingerie and wayhomestudio