By HOLLY JACKSON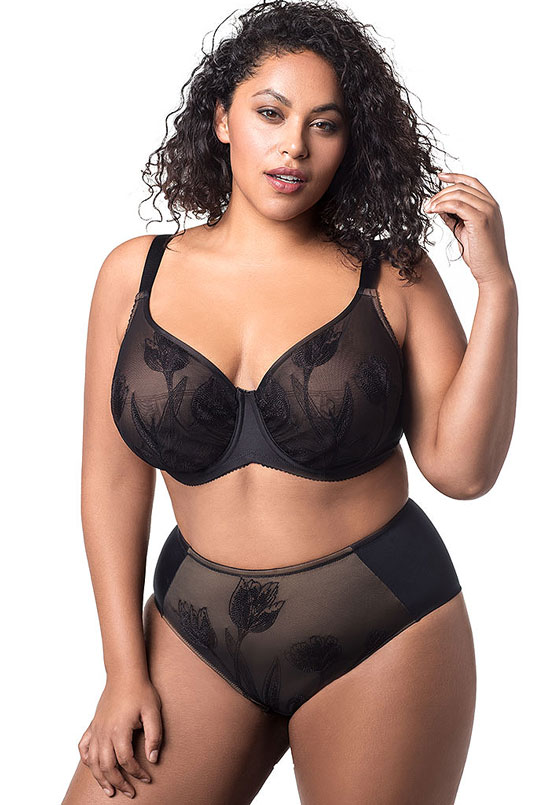 I've been going through a phase over the past few years where I'm fascinated by textures. Whether it's a great piece of embroidered lingerie or just petting an antique piano shawl in a local store, I love the look and feel of textured fabrics with elements that put them over the top. While that trend has taken off in other sections of the lingerie industry, it hasn't really hit the plus size market in a big way yet.
One of the earliest adopters of this trend was the new Tulip Embroidered Underwire bra by Elila, which was shown at Curve over several shows and has finally been released. I wanted it from the first moment I saw it, but I was also interested in how it reflected a change in the look and feel of Elila's brand. Elila has also focused on maintaining a wide side range with superior support options. Their focus has been fit and construction, which sometimes meant their bras felt plain or retro compared to fashion forward brands like Elomi who were always chasing the latest trends. The release of their Glamour collection felt like a step in a different direction: a combination of their seriously supportive bras with some classic fashion trends.
When I asked Elila about their design inspirations, they cited Grace Kelly and other glamorous black and white movie stars. While the delicately embroidered material makes an impression, there are other changes too. Elila bras are traditionally exceptionally full coverage, so the recent releases of the Glamour and Tulip sets have been designed to be able to be worn with lower cut clothing. This is evident in their new strapless longline bra release as well, which has been designed with moulded cups and a much lower gore than previous pieces.
The Tulip Embroidered Underwire bra features the same supportive materials and three part cup design from other Elila classics, so customers don't have to sacrifice support for fashion. Available 34 – 46, DD/E to K cups, this is the perfect holiday set for curvy lingerie boutiques and consumers who want to branch out beyond the heavy hitting brands in the industry. In fact, I suspect this will be a great way for new and younger consumers to discover how great Elila bras are.